Uninterrupted Protection
Screen protective film is a smart and cost effective way to ensure a longer life of your display.
Applying Photodon Crystal Clear protective film to your screen will help protect your display from cleaning errors, scratches, fingerprints and accidental marring.
Crystal Clear screen protectors enhance your display's image! Making colors sharper and whites brighter, this film does more than protect your screen. In the way that film is constructed, Crystal Clear film offers an improved image by turning the light through the film 90 degrees giving you a clear, crisp and clean view of your display.
Whether you buy a pre-cut screen protector or if you require a custom cut film, we promise a seamless and perfect fit every time.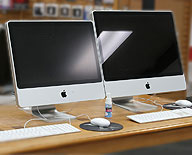 More perks!
If you're applying this film on a tablet, you'll find that your stylist pen glides even smoother than before. Your screen will look newer even longer thanks to the protection you'll have with our film.
Shop our wide selection of Screen Protective Films
10% Off Store Wide!
Type in coupon code April110 at check out (step 5 at Photodon checkout only), or mention the coupon code to the friendly customer care staff on the phone to receive 10% off in our store.
Offer Ends: April 13, 2012
Tags: display, protect, protective, protective film, protector, screen, screen protective film, touch