So lately we've been getting a lot of questions about our screen protective films. We strive to have a lot of information on our main protective film page but with *so* much information all in one place it's hard to absorb all of it! So today let's cover a question that is asked pretty much everyday:
"Which type of film should I order?"
Please keep in mind that there is a section available on our website as well for all of the FAQ's on Screen Film.
Touch Screen:
If you have a touch screen with a slight glare is an issue, our MXH film is a great choice! It's thin enough not to interfere with your touch screen capability and it has a hint of anti glare finish to it and it protects your screen as well.
Big glare issue? We suggest MXT anti glare film with your touch screen as it has a strong anti glare finish to it and protects your screen as well.
The cons about the MXT film are that it isn't recommended for color critical work and it tends to cause slight speckling especially on devises with a glass front.
No glare issue, but you want screen protection? We offer crystal clear film (MXA) that is also thin enough to work well with touch screens and since you'll be touching the film instead of your screen the life and health of your screen are better ensured.
Every circumstance is unique, your devise and usage all play a factor in what type of film is right for you. (We'll talk about our other film the MXS in just a minute.)
Tablets and their pens
If you have a tablet PC the MXH and MXT work great with a stylistic pen. They give the feel of paper under the tip of the pen. If you're not looking for the anti glare finish and are just looking to protect your tablet, MXA Crystal Clear film works smoothly under your pen. It does have a high glass finish to it. This film will slightly improve the image of your screen.
Displays with Glass Fronts
Screens with a glass covering over the actual screen will also require a thinner film. When the anti glare film isn't right up against the image it can cause distortion/pixeling. The thinner the film the closer it is to the actual the image. The same about the anti glare applies here too; depending on what type of light situation you have will help you determine the strength of anti glare coating that you'll need. Our suggestions for displays with glass fronts: MXH and MXT for glare situations, MXH if you're only looking to only protect the screen and do not need the anti glare coating.
Non Touch Screens and Anti Glare Film
Anti glare protective film for a non touch screen, (something like a TV, or a standard computer monitor or laptop) you would do fine with a thicker anti glare film like our MXS film.
MXS film offers the best anti glare effect and will protect your screen. When you're applying film to a larger screen it's beneficial to work with another person assisting you. Thicker material won't bend the film if it were to gently bend backward during installation.
What is the difference between Crystal Clear and Anti Glare?
Photodon's Crystal Clear / High Contrast screen protective film: MXA, has a glossy finish and smooth surface. The benefits of this film are that it offers great protection from scratching or marring and it slightly improves the image underneath it.
Our Anti Glare / Non Glare screen protective film: MXH, MXT & MXS, have a matte finish that will prevent harsh lighting from bouncing off the screen and into your eyes. This is what we also call Anti Reflective.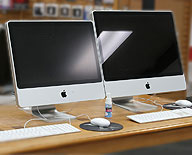 Reducing the glare off your screen has been proven to decrease your risk of CVS (computer vision syndrome). It also helps you view your display! That's a plus right? So if you're outdoors, on the road in the car, working next to a window or under strong overhead office lighting, using an anti glare film will be very beneficial. The biggest drawback with that anti glare film is that our MXT and MXS films are not recommended for color critical applications as they can slightly change the colors, , (ie: people working in photo or design workshops). The film tends to be cause pixelling when placed over devises with glass fronts and can potentially pose an issue. Another option to help those fighting glare is a computer monitor hood.
Please note that anti glare film is not for reducing your *screen's* brightness! It is not a brightness reducer it only helps diffuse light that is being reflected off of your screen; not the light from your screen.
So in short, Crystal Clear is completely clear and has a glossy finish. Anti Glare has a matte finish and will keep light from reflecting off your screen. All screen protective films will protect your screen from scratches and other accidental boo boos that can happen to a screen. These films really do take the abuse of everyday use!
Please follow this link for more detailed information about film types.
Compare film specs side by side and you can see for yourself that I'm telling the truth!!
If you have a question about our screen protective films that wasn't listed today please don't hesitate to ask! Feel free to post a comment below! Or if you're on FaceBook please post your question on our wall! There may be someone else with your same question and they too would benefit from you making the first move.
Visit our main screen protector film page for access to products and product information.
I'm outta here for now! Take Care!
~Lisa Marie