"I can see myself well enough to shave."
This is a statement we hear often from iMac users.
The iMacs on the market today offer brilliant color and a crisp, sharp image. However, the glossy screen makes it hard to avoid light bouncing off the screen and into the operator's eyes. Screen glare is a proven cause of Computer Vision Syndrome, (CVS).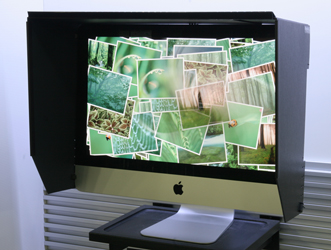 A smart solution to avoid the glare from your iMac screen is to install a monitor hood. A monitor hood is built specifically to block out overhead and side lighting which will reduce the glare from surrounding light sources.
Here at Photodon.com, we offer monitor hoods to fit today's iMac monitors!
10% Off Any Hood Order!
Type in coupon code April0210 at check out (step 5 at Photodon checkout only), or mention the coupon code to the friendly customer care staff on the phone to receive 10% off in our store.
Offer Ends: May 4, 2012