MXA Makes Colors Pop – Great for Gamers and Graphic Designers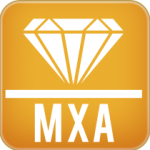 Describing film types can be difficult, but Photodon's MXA Crystal Clear is the only anti-reflective film that we carry, and so it has a distinct difference over the other clear films that we sell. (Note: Photodon carries several types of anti-glare film, but only one anti-reflective film).
MXA's anti-reflective coating twists the light emitted from a screen, which has the effect of making the whites whiter and colors sharper. Images seem to "pop" and look a little tweaked up when putting this film on your device. For this reason, MXA is very popular with anyone who is interested in screen protectors that will not only do an excellent job at protecting the screen, but will also enhance a display's image. Gamers, graphic designers, movie buffs, and retailers who have digital displays that they want to protect and draw special attention to — all these types of customers love our MXA film.

In the way that this film is constructed, Crystal Clear offers an improved image by turning the light through the film 90 degrees giving you a clear, crisp and clean view of your display. Another perk: The glide of a stylus on MXA is very smooth, so many of our customers report that it enhances their enjoyment of using their drawing tablet.
Screen protective film is a smart and cost effective way to ensure a longer life on any type of device with a digital screen. Applying Photodon Crystal Clear protective film to your screen will help protect your display from cleaning errors, scratches, fingerprints and accidental marring and at the same time, it will enhance your visual experience with your device.
Whether you buy a pre-cut screen protector or if you require a custom cut film, we promise a seamless and perfect fit every time.