Remove fingerprints, dust, smudges, grease and oil with Optix screen and lens cleaning solution!
This solution stands up against the more expensive brands, offering a spotless clean on almost every type of surface; including sensitive LCD, Plasma screens and camera lenses.
This product works great on glass, plastics, acrylics, polarized lenses and more! It will not remove anti-glare coatings. Free of harsh chemicals, Optix solution is biodegradable and environmentally friendly.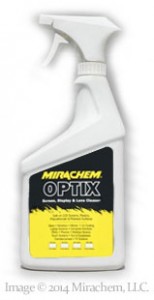 The Optix brand cleaning solution works best with the proper microfiber cloths and this kit has them! You get two types of high quality microfiber cloths.
One has a diamond weave, which is great for removing dust, lint and loose debris.
You also get two of our amazing suede like microfiber cloths which, when paired up with the Optix screen cleaner, will give you a sparkly clean surface!
Thanks for reading!