Often times you hear about how wonderful a microfiber cloth is, but seldom do you know exactly what to use it on or for.
You'll find that the biggest key factor when choosing a cloth is the "lint" level of the material. Cloths that are tightly woven or looped woven are normally a low-lint cloth. These are ideal for screen cleaning, or delicate surface cleaning.

Cloths that have cut fibers instead of loops tend to be quite linty as they are sheered at the ends.
This material is best used on general surfaces such a counter tops, equipment polishing, dusting, and so on.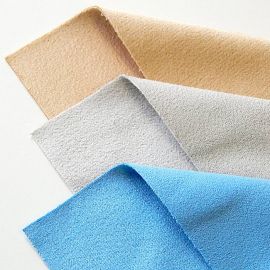 Below is a table that will help clarify the difference between the different weaves and textures.
| | | | |
| --- | --- | --- | --- |
| Texture | Feels like | Lint Factor | Uses |
| Silky Textures | Silky, Smooth, Fine | Very low lint. Loop, tight weave | Lenses, Large & Small Screens, Glass, Jewelry, CDs, DVDs, etc. |
| Suede Textures | Suede-like, Soft, Thick | Low lint. Better after one wash | Critical screen cleaning, Cameras, Glass, GPSs, etc. |
| Terry Textures/ Large Loop weave | Terry cloth towel, soft, thick | Very linty due to the cut-weave material | General hard surfaces, Automotive, General cleaning |
| Pattern Textures | Depends on the material: some are the silky and some are a thicker cloth like the suede | Very little to very low lint with most | Cloths with a pattern usually have a better ability to scoop up dust and debris since they have a "groove" to lock the particles in to. |
One of the coolest characteristics about the microfiber cloth is that you can clean a smudgy/dirty surface with your cloth dampened by only water! And they're so eco friendly because they're washable! They cut down on waste, helping you to help save the planet!
We do offer many different microfiber cloths, but it's up to you in which you like best.
If you still don't know which cloth type to order, please contact us at 847-377-1185, M-F 9:00am – 5:00pm EST, or email us at [email protected].  We're happy to help!