What Makes Microfiber Technology So Powerful?
A Unique Blend of Materials 
Microfiber technology is based upon using specialized industrial machines to weave together synthetic materials — typically 80% polyester and 20% polyamide (nylon). (If Willy Wonka made microfiber cloths, he'd be impressed with these machines). Combining these materials makes microfiber tough, versatile, and long-lasting.  Polyester allows for polishing surfaces while at the same time preventing the cloth from scratching fine or delicate surfaces (Yay! You can clean your piano without worrying about damaging it!).  The nylon prevents the material from shedding fibers and keeps it strong, elastic, and resistant to abrasion and chemicals. It is only with both materials together that you get what is known today as microfiber. (Invented by geniuses, no doubt).  Its phenomenal absorbency gives rise to thousands (ok, maybe millions) of applications, including cleaning and drying many surfaces.
Microscopic Strand Size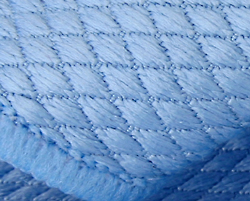 The individual strands in microfiber are finer than 1/100 of a human hair (Don't ask who actually measures a human hair) and are split into many wedge-shaped strands to help with the wicking power of each filament.  With the proper combination of materials and the splitting of the already superfine fibers, these unique microfiber cleaning materials were created.  These strands can reach into crevices and provide millions of little pockets within the fabric to hold dirt and bacteria (and who doesn't love the idea of trapping dirt and bacteria, right?).  The fibers can be made into several types of microfiber cloths such as the ones Photodon carries: silky, suede, or chamois. #microfibergeeks.
Origins
One upon a time, in a galaxy far, far away…..No wait, wrong story. It is unclear as to the exact date when microfiber originated (although grad students round the world are no-doubt clamoring to write their thesis to clear this mystery up). Some believe it was invented by the Japanese in the mid-1970s.  Some credit England with introducing it in 1986, while others state it was as late as the 1990s.  Regardless of when it began, microfiber is a wonderful creation that makes our lives better.
Microfiber cloths for the Coronavirus Pandemic:
Although microfiber cloths do not kill the Coronavirus, the microscopic strand size makes microfiber act as a kind of magnet for bacteria, plus they can be washed over and over again. Use with a disinfectant is an excellent way to clean surfaces (and heaven knows we're doing A LOT of cleaning surfaces these days).  The cloths can also be boiled (Yup. Boiled.), put in the microwave (wet for 25 seconds), and washed in hot water to sterilize.  Photodon also carries anti-bacterial microfiber cloths, especially useful in a medical setting. #Coronavirusisnojoke
Environmentally-Friendly
Best of all, microfiber cloths reduce the number of paper products needed for cleaning (the trees thank you!), and they can be washed and reused up to as many as 500 times. Additionally, the required amount of cleaning solutions can be reduced or eliminated just by using a microfiber cloth.
Microfiber cloths are great for so many cleaning applications including:
Medical facilities & equipment
Household & office equipment
Car exteriors
Delicate surfaces such as camera lenses or computer/tablet screens
Glassware & mirrors
Any surface that could use cleaning
Photodon customers use microfiber cloths to get a great shine on everything from windows to car interiors.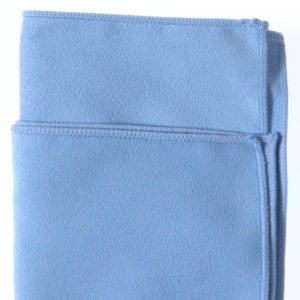 Suede microfiber cloths are a great cloth for buffing. These microfiber cloths are slightly thinner than the chamois and have a nice sewn edge, which makes them less linty. They are available in three sizes: 8" x 12", 12"x 16", and 16"x16" (depending on color). These cloths can also be embossed (Minimum order quantity 100).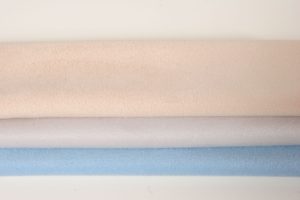 Microfiber chamois 8" x 8" cloths are soft, leather-like, and are ideal for cleaning glossy, hard, and smooth surfaces — especially plastic. These microfiber cloths are very popular for cleaning car interiors — and they can be washed over and over again.
Here at Photodon, we have a wide variety of microfiber cloths to meet your every need including promotional microfiber cloths!
You can contact us at 847-377-1185, M-F 9:00a.m – 5:00pm EST, or email us at [email protected].