Monitor Hoods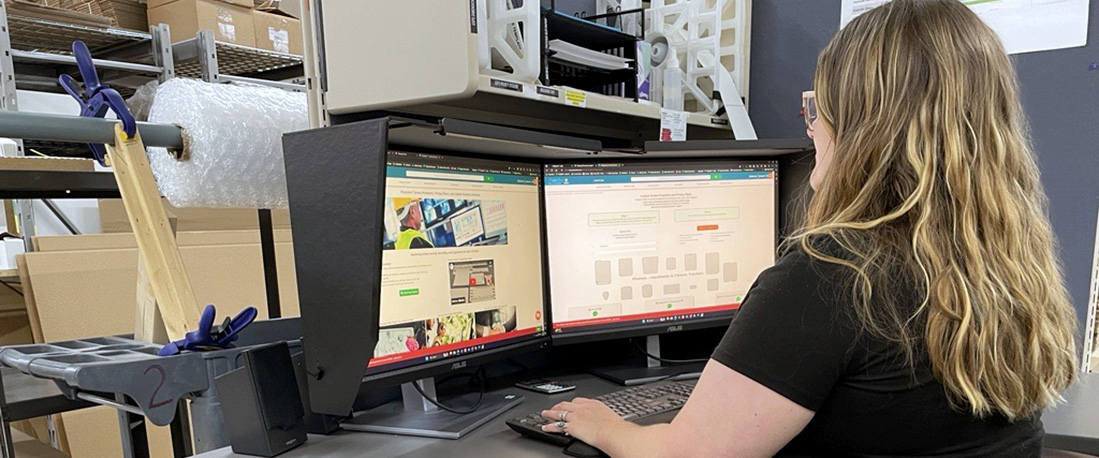 Monitor hoods can solve issues with
glare and privacy on monitor screens.
Photodon
®

offers two types of monitor hoods: the office style monitor hood, and the versatile indoor-outdoor shade monitor hood. Our hoods are custom made to fit your needs.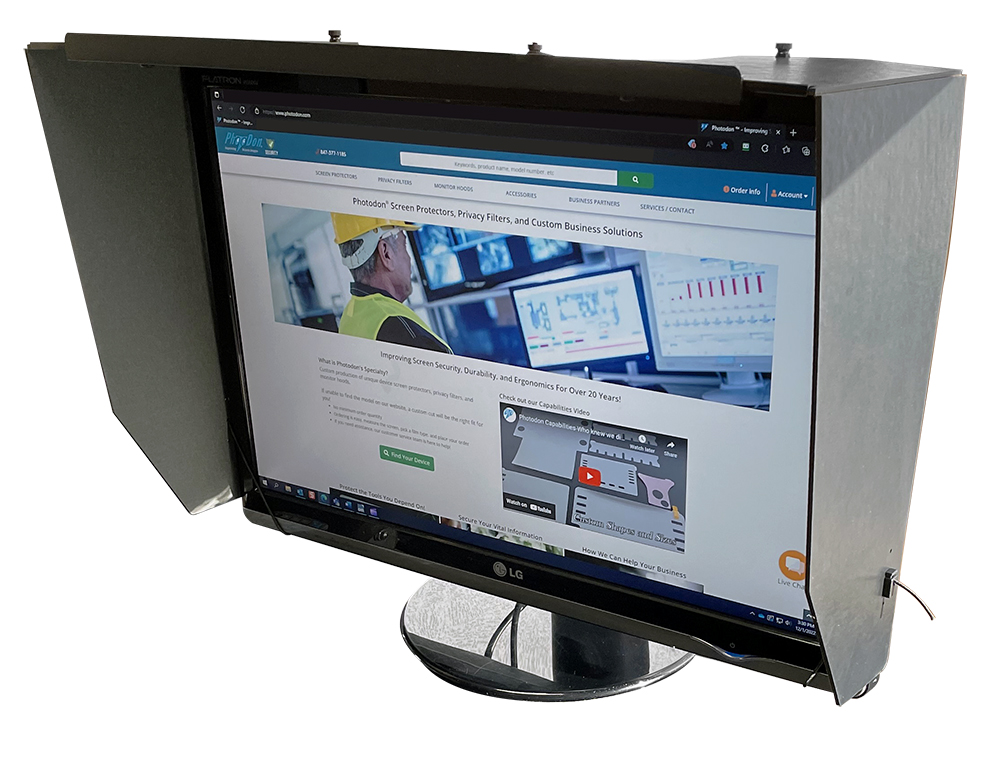 This hood material is manufactured in the USA and was chosen for its rich tactile quality, and superior performance. It is easy to maintain. Laminated with low light transmittance gray inside material and a thick fiberboard, this decorative cover material is strong and durable. Excellent for use in the home and office.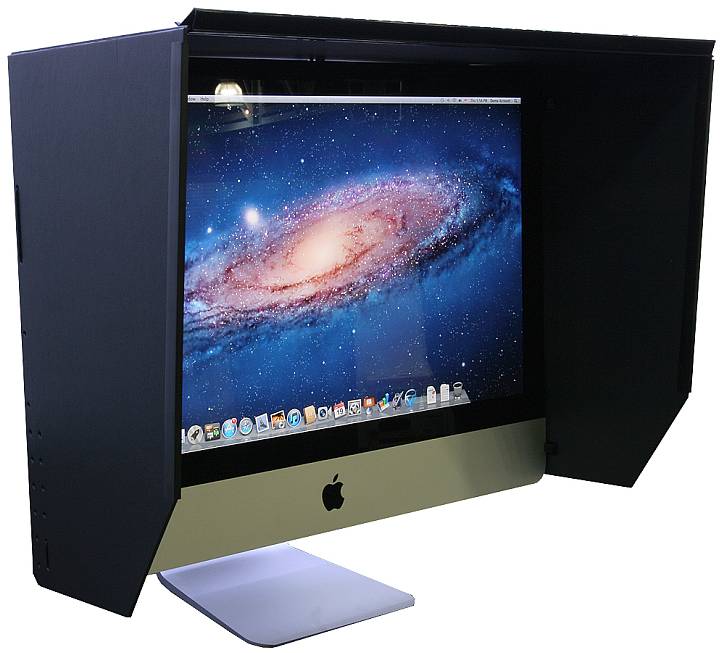 Apple hoods are made specifically for certain iMacs to accommodate the top corners. They are rounded to fit the specific model, thereby limiting the amount of ambient light that penetrates between the hood and the monitor.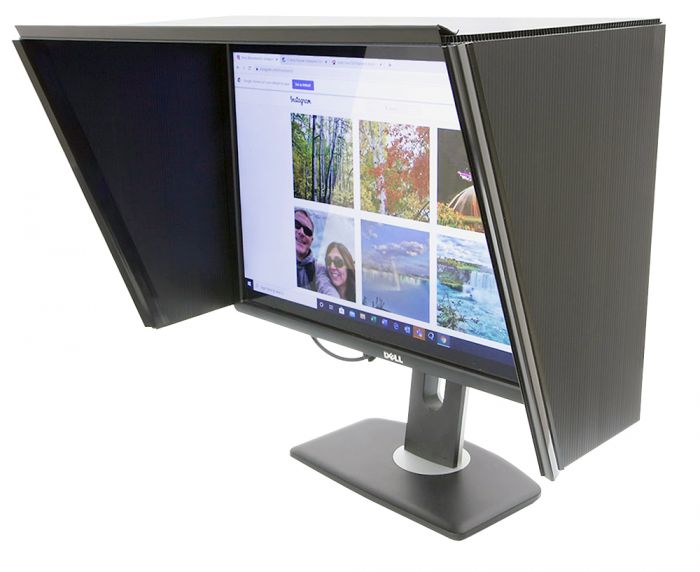 This hood is versatile and is designed for indoor/outdoor use and for industrial type settings. Made from corrugated plastic, this hood is great for use in a dirty and damp indoor or outdoor environment.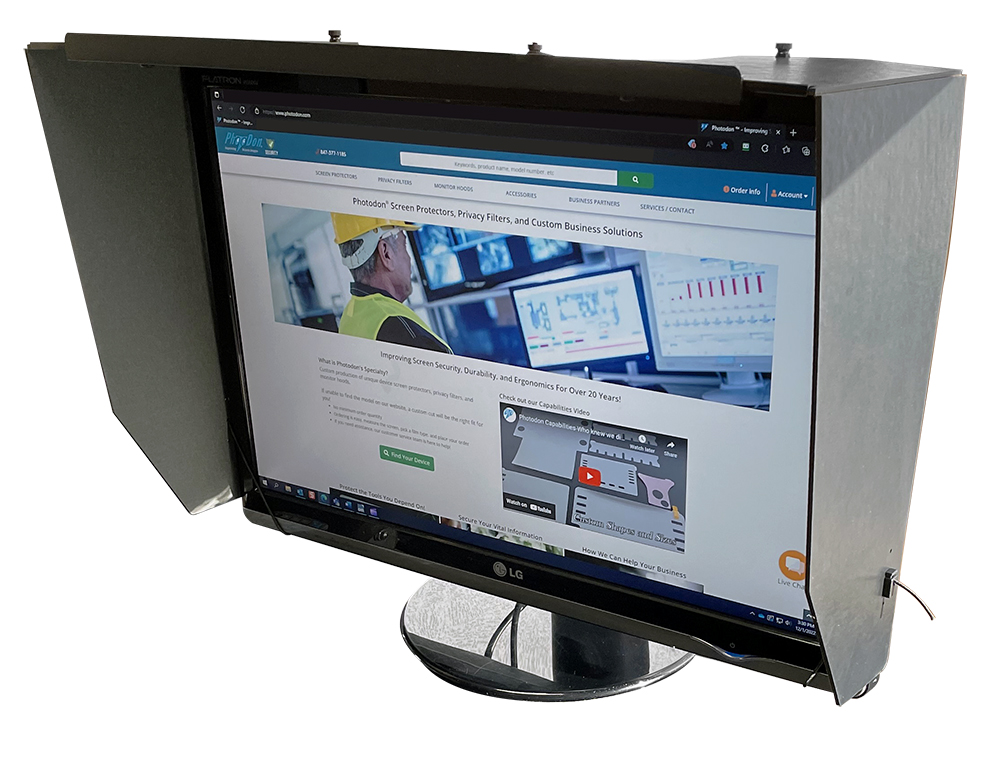 This fully-assembled, easy-to-install monitor hood creates a shaded environment for your screen, offering serious anti-glare and privacy protection, which is ideal for those involved in color-critical work. Our hoods keep private information safe from onlookers, providing an excellent accessory in testing, banking, and medical facilities.
---
Features of Both Hood Types:
Benefits:
Reduces glare and eye fatigue
Shades from window, overhead and outdoor lighting
Increases privacy between adjacent computers
Provides privacy from side viewing
Protects the computer
Suggested Uses:
Testing Facilities
Voting Booths
Showroom Kiosks
Financial Institutions
Design Studios
Open Office Environments
Design:
Each hood is custom made to your specs
Fits snuggly around device
Secure attachment methods
Easy installation and removal
Folds down for easy storage
A one-piece top front edge
Easily cleaned
Lightweight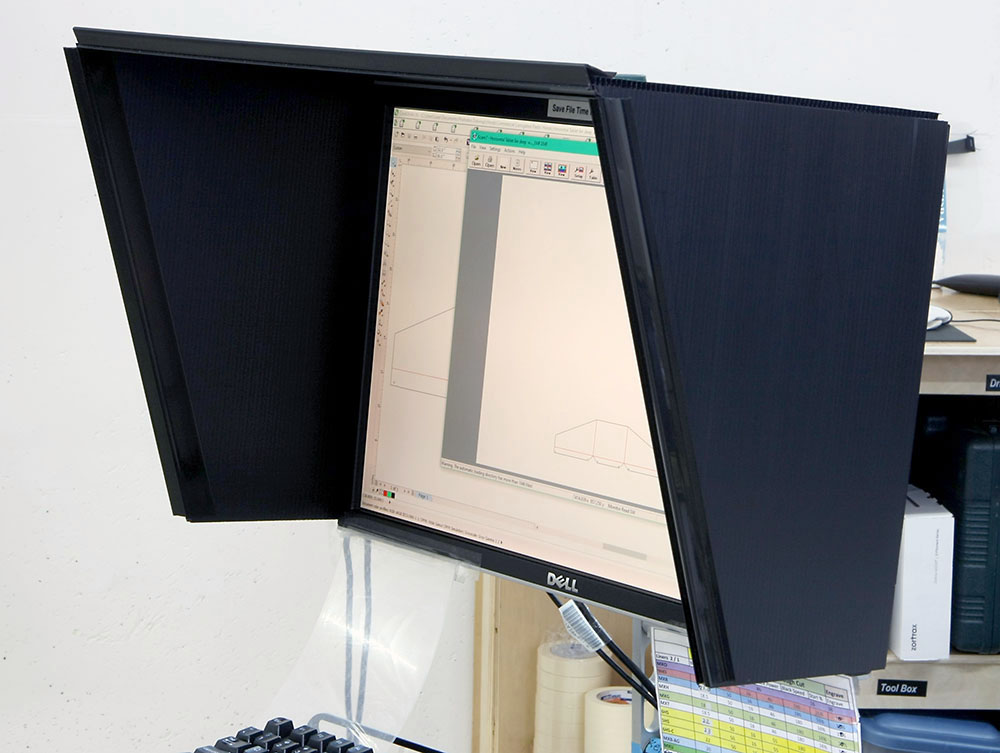 One-piece top front bar provides no sagging across the top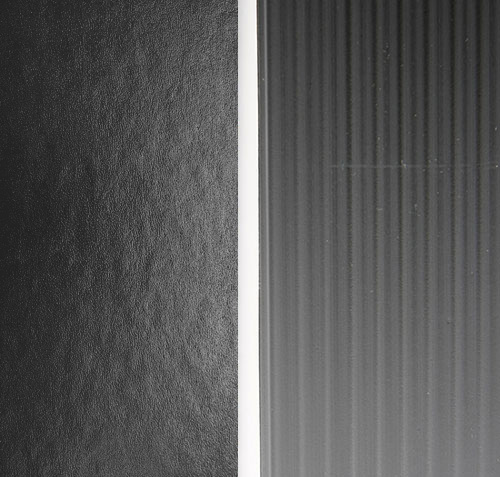 Office Hood material | Indoor-Outdoor hood material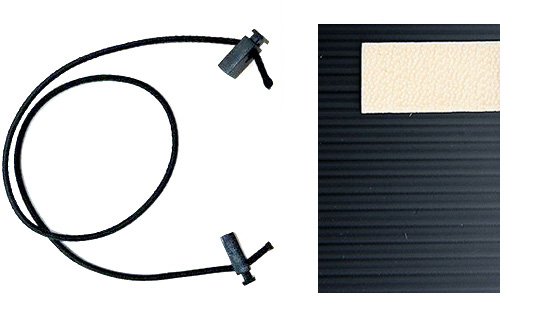 Elastic Cord Attachment | Hook and Loop Fastener
---
2023 Office Hood Design Changes:
NEW Outer Material
NEW Inner Material
NEW Front bar
NEW 3-piece configuration
NEW Design for Curved Monitor Office Hoods
Widths are customizable
If you require an Indoor-Outdoor Monitor Hood or a hood with a custom depth, calibration door, or specific size, order a
custom monitor hood
.
Features of Office Monitor Hoods:
Durable outer mat-board material
Light-absorbing, gray inner woven material is ideal for professional users who need to maintain true colors, calibration door options available
Calibration door options available
Option to be custom made to fit your monitor up to 84"
Comes in 8" depth
Attaches with elastic cord and cord locks
Hood is fully assembled
Hood Care: The outside surface can be cleaned with a glass cleaner or a mild solution cleaner. It can also be polished with automotive vinyl cleaner. Do not submerge or allow the edges to get wet
---
Features of Indoor-Outdoor Shade Hoods:
Made of lightweight 3/16" corrugated plastic that is rigid, durable, dirt, grease and water-resistant
Height, width, and depth can be customized up to 96" (top and sides)
Suitable for indoor and outdoor use
Easily removed and installed
Can be applied to monitor or to a flat surface
Adhesive-backed hook and loop fastener low profile attachment
Hood is fully assembled (hook and loop fastener adhesive is applied by consumer)
Hood Care: Can be cleaned with commercial-grade cleaners. The hood is submersible.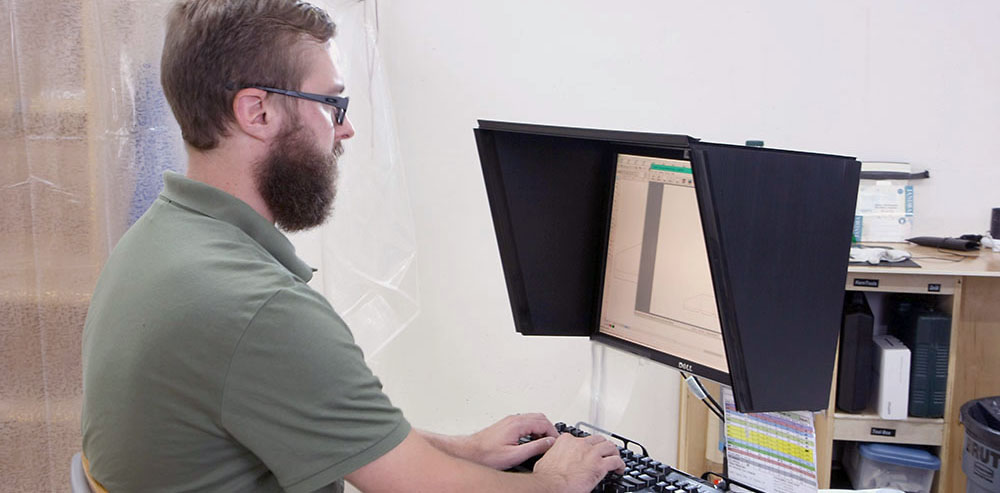 Indoor-Outdoor Shade Hood
---
Features of Custom Monitor Hoods: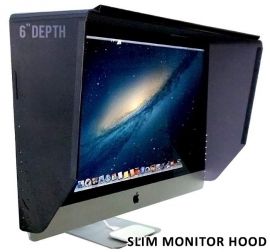 Customizable depths – from 4" slim to 10.5" wide – standard depth 8".
• Slim design
• Best for lightweight screen supports
• Depth range 4"-10.5" for office hood
• Depth range 4"-23" for indoor-outdoor hood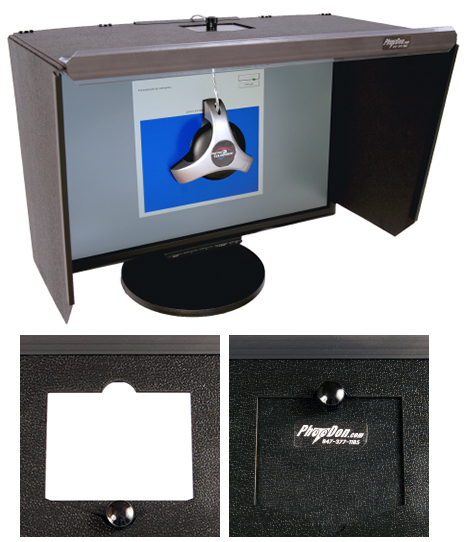 Calibration Door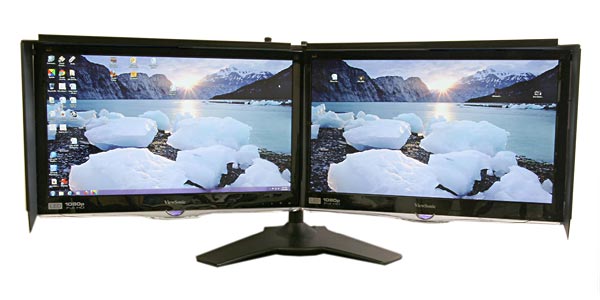 8" Depth Dual
• No center support to block your view
• Adjustable from straight to 45 degrees
Monitor Hood Pros and Cons:
Is a monitor hood or an anti-glare film right for you? Here are some ideas to consider as you make a decision.....
Monitor Hood Pros - The benefits of a monitor hood versus an anti-glare screen protector
Regarding Image Clarity
A monitor hood cuts down glare without compromising image clarity.
while high anti-glare screen protectors can cause pixeling and decreased image clarity.
Regarding Color Calibration
A monitor hood allows for accurate color calibration.
while anti-glare films can cause decreased image quality and may inhibit proper color calibration.
Regarding Privacy
Monitor hoods provide an ideal amount of privacy for computers adjacent to each other.
while standard anti-glare films do not provide privacy. However we do have Privacy Filters as well to help with privacy issues.
Eye Fatigue & Glare Reduction In Ambient Light
A monitor hood aids eye fatigue and glare reduction by eliminating ambient light from overhead and side light sources.
Anti-glare screen protectors allow for glare reduction and relief from eye fatigue, but do not reduce ambient light from hitting the screen.
Monitor Hood Cons - When a screen protector makes better sense than a monitor hood
Size
Hoods are limited in size to monitors and TVs up to 48 inches for office hoods, and up to 96 inches for indoor-outdoor hoods..
while anti-glare screen protectors are available for all flat screens up to 100" diameter.
Protection
A monitor hood does not shield a screen's surface, therefore cannot prevent scratches or smudges.
while screen protectors shield screen from scratches, smudges and other wear and tear.