Photodon® Privacy Filters
Photodon
®

Privacy Filters
Share only what you want while keeping your sensitive information private!


Screen privacy for monitors, a must-have for medical facilities,
financial institutions, governmental offices, testing facilities,
or anywhere that information needs to be protected.


Privacy filters, also known as computer privacy screens, increase screen information security by reducing screen visibility. This is accomplished by mini louvers embedded in the material that start to reduce screen viewing at approximately 30 degrees and turn the screen nearly black at angles greater than 45 degrees. The Health Insurance Portability and Accountability Act (HIPAA) and other privacy policies require businesses to protect personal information from the public or other non-essential personnel. Photodon Touché™ Brand Privacy Filters are trusted to ensure that your data is not subject to snooping.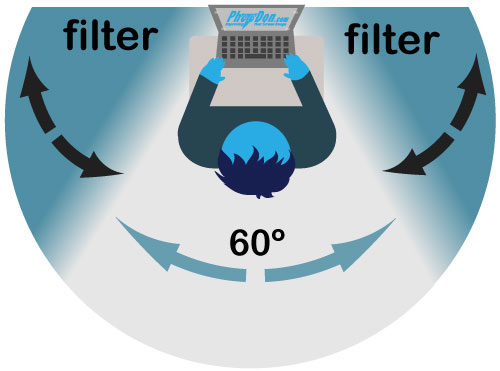 Photodon Touché™ Brand Privacy Filter Materials
There are three types of privacy filter materials offered by Photodon: P2L, P2S, and P4S.
P2L
P2S
P4S
2-Way Privacy
2-Way Privacy
4-Way Privacy
Double-Sided Strip Adhesion
Full Silicone Back Adhesion
Full Silicone Back Adhesion
Ideal for screen privacy for monitors
Ideal for monitors, tablets, and more!
Ideal for tablets, kiosks and smaller devices
Maximum Dimensions:
466mm x 466mm
The Differences Explained
2-Way vs. 4-Way Privacy: 2-Way Privacy offers reduced screen viewing in two directions, most often left and right. 4-Way Privacy offers reduced screen viewing in four directions: left, right, top and bottom.
Adhesion: P2L Privacy Filters use clear double-sided adhesive strips for extremely simple installation and removal. If you plan to remove the privacy filter and use it later, P2L can be removed and reinstalled multiple times. P2S and P4S, on the other hand, adhere using a full silicone backer of the same type used on our clear and anti-glare materials. With careful application, the result is more permanent and can look cleaner. This method of installation is ideal for public areas, or when a "built in" look is desired. P2S and P4S are easy to remove by slowly peeling them off the device. All adhesive methods leave no residue when filter is removed.
Dimensions: All Photodon Touché™ Brand Privacy Filter Materials are limited to manufactured sheet sizes as indicated in the table above. If needed, we can create privacy filters for screens larger than the maximum dimensions by making a multi-piece filter. It should be noted, however, that because privacy filters begin to reduce screen viewing at 30 degrees, they can cause shadows or blackouts on the edges of a very large display depending on how it is viewed.
P2L Installation

P2L Adhesion Method
Note: Strips are clear and do not impair visibility

Privacy Filter Samples are Available!
Try a sample pack to find out which material works best for you!
More Benefits of Privacy Filters
Work on flat or inward-curved monitors.
Reduces blue light by 50% (310-375nm).
Made of durable long-lasting materials.
Custom cut filters available.
Touch-screen compatible.
Blocks ultra-violet to less than 1% (250-325nm).
Install kits included, perfect for maintaining filter.
Matte finish-reduces glare and fingerprints.
See What Our Customers Are Saying About Our Customized Privacy Filters!
Fast Turnaround for Custom Filter
Once I got over the inital excitement of my new curved monitor at work, I realized I hadn't thought about how difficult it would be to find a privacy filter. After a bit of searching I found Photodon. I was a bit apprehensive about providing the correct specifications, but I crossed my fingers and placed an order for a custom cut filter on Thursday afternoon. Since it was "custom" I thought it would take longer to arrive but I received it first thing Monday morning and it fits my monitor perfectly! I will definitely be ordering from Photodon again!
Thanks, Lori!
First, I was helped through a chat session to choose the ideal film. My order came fast and was well packaged as I've ever seen anything packed. Well protected and included install items were a very nice touch. Install went great, and the privacy filter is just what I was looking for.
I highly recommend!!!
Tom
It works, easy to put on, and arrived promptly. I was a bit nervous, as I am not the best at measuring things, and this was also a curved screen. They gave me instructions on how to do it properly (not rocket science). It arrived sooner than I thought it would, and installed faster than I thought it would. Planning on buying a second 38" curved screen soon and will buy another computer privacy screen.
Russell