Custom Cut Screen Protectors and Privacy Filters
Pricing is based on custom size, material type, and quantity
Complete fields below to calculate pricing
*Price breaks start at 10 pieces.
Please ensure the dimensions you entered are accurate as to not cause issues with your order.
Shipping & Return Information
Search for your device using our Quick Find page before ordering a Custom Cut.
---
Devices with straight edges and no cut outs - No drawing is required
Measure your device's screen area that you want covered. If you have a protruded bezel, do not include it in your measurement.
Enter width & height dimensions in millimeters into the corresponding fields. (A conversion calculator is provided if you only have inches).
Do you want the protector cut EXACTLY to the measurements you provided? If so, click the EXACT button; otherwise, we will subtract .5 -1mm from each dimension for ease of installation.
Choose material type
Choose proper corner radius

Click corner type box that correlates with your device's corners. For corners that are not square or 2-3mm, please enter your corner radius in the "Enter Radius" box.
Use our corner radii checker pdf for reference.

Provide brand name, model, and screen diagonal size in inches of device (more detailed info below)
Click the "No Drawing" radio button
Indicate whether you would like

etching

Add any special order notes
Add quantity
Click "Calculate" for pricing and then "Add to Cart"
Sending a photo of your device to

[email protected]

can be helpful to us but is not required
Devices with special features to cut around (camera, sensors, buttons, etc.) - Drawing is required
Provide a drawing by:
1) Filling out our Custom Cut Screen Information Sheet (CCSIS) to help communicate cutouts, corner radius, and shapes.
Email to [email protected]
OR
2) Provide us with your own drawing in .pdf .dwg or .crd format.
Email to [email protected]
Measuring:
If unsure about the measurement process, watch our short video on how to measure. Having the correct dimensions is very important when ordering a custom screen protector. We do not use the diagonal dimension to make a custom cut screen protector, but it is helpful in identifying the device. Review the images below to determine the area to measure depending on if the device is framed or frameless.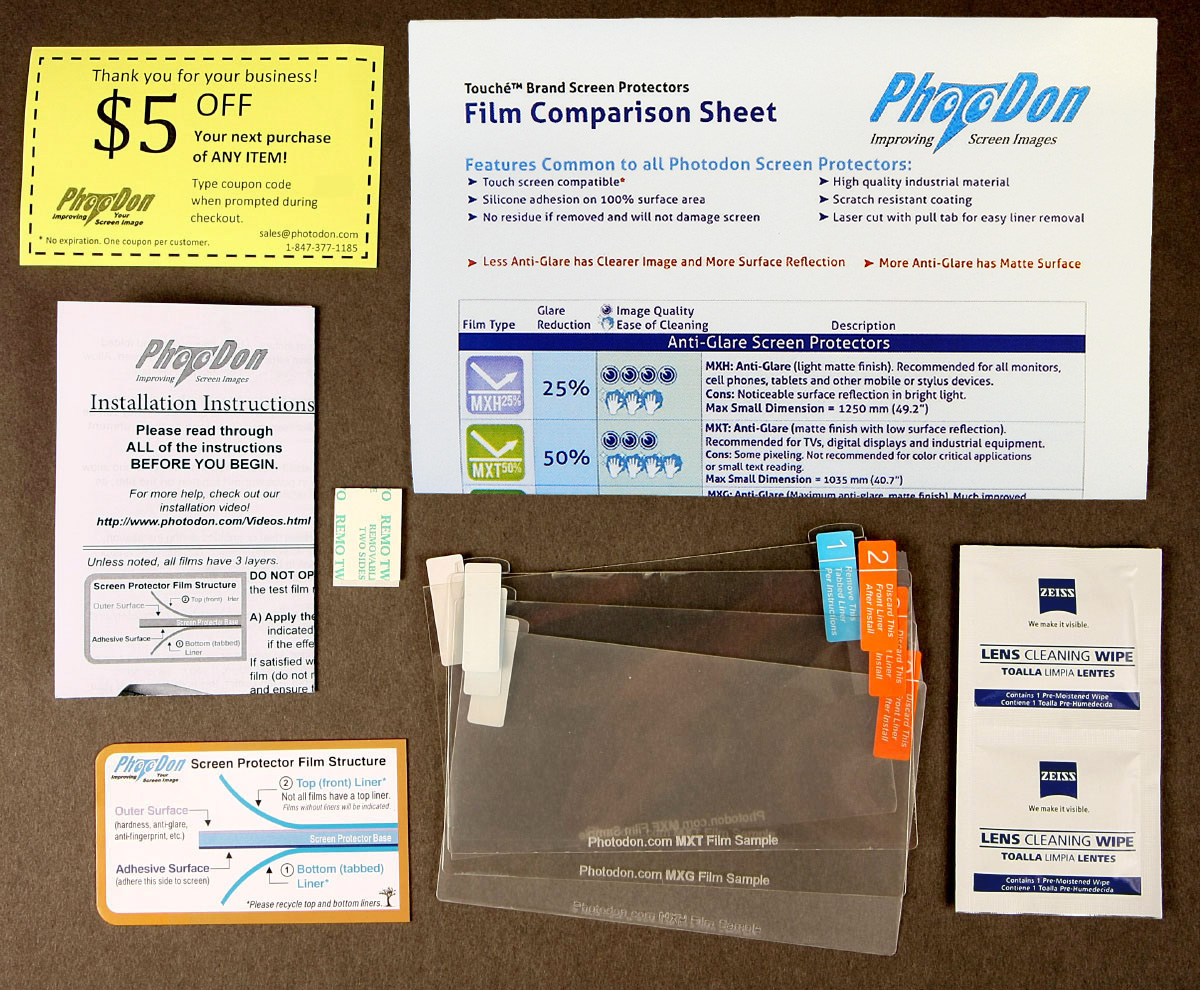 Sample Packs:
If unsure of which material type to choose, we recommend that you order a Sample Pack. This is an inexpensive way to ensure you choose the film that works for you. There are 3 sizes: 2x3", 3x5", and 8x10". We offer free shipping within the USA and charge $3.00 to ship them internationally. We include a $5 coupon toward your next purchase with any purchased sample pack.
Selecting Corner Type:


Click on the corner type box that correlates with your device's corners. For corners that are not square or 2-3mm, please enter your corner radius in the "Enter Radius" box. Use our corner radii checker pdf for reference.

The custom cut screen information sheet (CCSIS) or your own drawing is helpful to ensure you receive the proper corner types. Page 1 of the (CCSIS) has the radius of some common home and office items. Page 3 has a printable corner radius checker from 1 to 40mm.


Brand Name, Model Number, and Diagonal Size:
Providing this information helps us identify your device to see if more information is needed. By confirming your custom cut screen protector or privacy filter, it allows us to put it onto our website as a new standard product so other customers can then order it. Want to help Photodon and fellow customers? Provide photos of a good fit and we can add it to our website and save time and money for your next order of the product. A complete model number and picture is required to qualify for this offer. Screen protector confirmation must be received within 60 days of purchase to qualify.
Etching:
Etching onto the screen protector's surface is a sharp and efficient way to promote your business or simply label your screen protector with your name. For a small fee, we will etch the film with a company or product name, part number, or website - whatever makes sense to you! The font is your choice of Arial 8pt or Arial 12pt, as shown in the photo. Etching location options are bottom right, bottom left, or bottom center. Available on all product pages. Etching Example
Need assistance?
Call customer service at 847-377-1185 Mon-Fri 9-5pm EST
Live chat from any Photodon website page Mon-Fri 9-5pm EST
Email

[email protected]

Use our web form
Custom cutting is our specialty. With our top-of-the-line technology, we can cut any shape or size to meet your needs (up to 100" diagonal for many material types). Camera holes, notches, or different corners are no problem for our specialized tech team. Installation supplies are included with each order. Kits vary depending on material type, size, and packaging options.
A Special Offer: Be the first person to confirm a good fit of the screen protector by providing a picture of your device with it installed, and you will receive a $10 coupon (transferable) towards your next purchase. A complete model number and picture is required to qualify for this offer. Screen protector confirmation must be received within 60 days of purchase to qualify.
Give yourself peace of mind from:
Blunt Force Impacts
Damage from Cleaning Products
Irreversible Scratches
Unwanted Abrasions
Irritating Fingerprints
Messy Hands
Photodon Touché™ Screen Protectors:
Quality tested and made of Best-in-Class material
Come with a small test sample to ensure the product you ordered meets your needs prior to installing
Are silicone backed for adhesion, leaving no residue
Are touchscreen compatible on 99% of devices
Can be precision laser cut to fit your device's screen
Have scratch-resistant coatings from 3 to 9H depending on material ordered
Have pull tabs for easy liner removal
Have a 30 day money back guarantee and 18 month limited warranty
Photodon's Touche protector line-up includes:
Anti-Glare for glare reduction. We offer multiple levels of anti-glare
Blue Light Blocking to help with eye health
Privacy Filters used to keep information private
Anti-Shock which reduces shock on the screen
Depending on your needs, Photodon has a material type to cover your device's screen. If unsure about which material is best for you, we have a chart that breaks it down for your to help the decision process.

Why choose Photodon for your screen protector needs?
Only high-quality material is used for our products
Our material has been tested over and over before we offer it to our customers
We can custom cut to any shape or size (up to 100" diagonal)
Offer a wide selection of material types
We offer many different installation kits and have carefully chosen which one to offer
Our kits can be used after the installation to maintain the screen protector
We send a small sample of your material type to try before installation
We have top notch, very responsive customer service
We offer sample packs so you can test our films
We offer B2B discounts for orders or 10+
Your purchase is supporting jobs in the USA
Did you know that in addition to offering a wide variety of high-quality material, Photodon offers several different services?
Film & Privacy Filter installations
Film layering
Generic packaging for our resellers
Notes:
Our screen protectors work on 98% of touchscreens. If your device is an ELO or a device with infrared, IntelliTouch, or Surface Acoustic Wave technology, touch function may not work with a screen protector installed. Please consider our Monitor Hoods for anti-glare solutions for these devices.
4.93/5 Stars out of 138 Reviews
> Halim Ina | November 26th, 2018
This is my second purchase from PhotoDon and like the first the second was perfect. My Fuji X-T3 seems to be too new for the manufacturers of screen protectors and all three bought from the marketplace failed in fit. The one cut by PhotoDon was perfect, all four of them! The fact that for their incredible fees they sent a complete kit for assembly goes well beyond service and satisfaction. This is the spot for screen protectors, period!
Note From Store Owner: We so appreciate your support and loyalty! It it very satisfying to know that our efforts are noticed.
> Masey | November 1st, 2018
Outstanding customer service. Ordered two custom screen protectors for two high end sewing/embroidery machines. Easy instructions (template was great) to measure for corner radius. Great quality, but more importantly, perfect fit.\n\nOne of the films had some scratches on it. Contacted customer service. Drew was very helpful, instructed me to send in a picture. He actually had full knowledge of my custom order. I left for a short vacation on a Thursday, the replacement film was waiting for me on Monday upon my return. Imagine my surprise. \n\nI have ordered screen protectors from Photodon for a few years now, and have never been disappointed. Photodon has been my go-to site for all my screen protection needs. I will now pass the custom measurements and your website, (yes, I volunteered to be the test case), to my friends so they can order their films. Thanks Photodon!
Note From Store Owner: Thank you, Masey! We appreciate your support and your positive feedback.
> Kevin Hallmann | October 30th, 2018
Shipping to Germany was quite fast and without problems. Consignment was declared properly to avoid problems with german customs. Preparing screen for installing was quite tricky, as the screen repeatingly attracted dust particles, but finally I made it. Custom screen fitted as promissed. MXH surface feels paperlike as promissed. Drawing and writing on my UG-1910b works wonderful now and took the quality of my works to a higher level. Great product! Thanks for that! :)
Note From Store Owner: We're glad you had success, Kevin!
> Trumpf TruBend 3066 | October 15th, 2018
Our shop has a Trumpf TruBend 3066 press brake and the factory screen protector was worn out. The Photodon replacement fit perfectly! Following the instructions that came with the film and the install kit, the film went on without issue, and without any air bubbles!
Note From Store Owner: The MXH should last you a good long time, Tony. We're glad your had a successful installation experience.
> Brittney | September 28th, 2018
I got one of these films to both reduce glare and add a little bit of texture to my XP-pen Artist12. Does exactly what I wanted it to do, went on mostly bubble free, my only gripe is that the film has like, bubbles only on one edge of the screen and nothing I did saved it from that fate. It's not a huge deal, just slightly annoying to look at. Still functions fine tho
Note From Store Owner: Hi, Brittney - Sometimes if you've provided measurements that are too tight to the edge, bubbling will occur. Please contact us if you'd like a replacement film for 50% the cost.
> Gerald | August 28th, 2018
I wanted to protect my HP Spectre 15". Ordered the MXH and the installation was easy. Just do your research on Youtube to see how the MXH affects the color. Just install slowly and have some tape ready to get any dust that you see that is trapped during install. I requested custom holes and they are slightly off and didn't bother checking the measurements I placed vs what was given. I might order again to see if I can get better hole placement but the one I ordered covers the screen perfectly, so I am in no rush to do so.
Note From Store Owner: We do our best to provide this custom service and appreciate your attention to detail!
> Robin Belz | August 8th, 2018
I invested in a very expensive Automotive Diagnostic device for my new job. The device is the size of a large I-Pad with a heavy duty bumper protection device. The size is oddball. I measured as instructed on the website, used the conversion from inches to millimeters, and then subtracted 2mm from my final numbers just to be safe. I figured a little smaller would be better than too big. It fit PERFECT ! I am thrilled. I followed the directions exactly and was able to apply without issue.
Note From Store Owner: This is good news, Robin.
> Megan | August 6th, 2018
we searched and searched high and low for a screen protector to fit our launch auto scanner. we came across photodon because they furnish ones for our autel scanner. ordered the custom fit one. was a little nervous on my measurements received it in and it fit perfectly.
Note From Store Owner: Way to measure, Megan!
> John Ploskonka | July 17th, 2018
This is the second screen saver I bought recently. First was a standard size for another vehicle, this was custom cut for 2018 Ford Edge 8" screen. I slightly undersized the measurement by a mm and they cut as described. Installation was easy and following the directions, no dust behind film. Of course the car was new. Only complaint I have is that both shipments had a very nice microfiber bag to store the cloth and cleaner but it is totally useless since they attached it to the cardboard sleeve with some type of tape that leaves a residue. Otherwise the install kit is great
Note From Store Owner: Thanks for the feedback, John! Let us know if you need another bag.
> russell | June 26th, 2018
I was a bit nervous, as I am not the best at measuring things, and this was also a curved screen. They gave me instructions on how to do it properly (not rocket science). It arrived sooner than I thought it would, and installed faster than I thought it would. \n\nPlanning on buying a second 38" curved screen soon, and will buy another privacy screen