Shock Absorbing Screen Protectors
Shock Absorbing Screen Protectors

Clear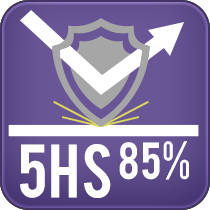 Anti-Glare
These specialty films are highly resistant to blunt force impacts. Both films also feature an extra layer that acts like a shock absorber
and has twice the surface hardness of our regular screen protectors. The main difference between the two film is that 6HS is
clear, while 5HS features an anti-glare matte finish (85% anti-glare).


Ruggedize Your Device:
Custom cut available
Discounted bulk rates for business-to-business partners
Available for any device up to 80"
Anti-Shock Features:
Affordability - far less than a glass replacement screen
Protects many times better against blunt force than factory-installed screens
5H and 6HS scratch resistance
Allows for all of the device's touch-screen features to function.
Highly transparent
Cons:
Not suggested for drawing tablets
Cost - this is one of our higher priced screen protectors