If your monitor model is not found in our Shop by Brand, please enter your information below for a custom STANDARD (8.25") depth hood.
Custom Monitor Hoods
Made in the USA

Custom Monitor Hoods
Price: $71.50
SKU: 112
Custom Monitor Hoods
Reduces screen glare and eye fatigue
Shades from ambient overhead and side/window lighting
Aids in color calibration consistency
Increases privacy - Helps keep information on your screen private
Professional, thoughtful design that is easily installed or removed
Allows for better concentration from busy environments
Keeps your screen cleaner, less dusty.
Made in the USA
Our new design features include:
New slimmer-looking design
Improved exterior material durability
Stronger elastic attachment cord
Small notch on each side to access USB ports
This fully-assembled, easy-to-install monitor hood creates a shaded environment for your screen, offering serious anti-glare and privacy protection, which is ideal for those involved in color-critical work. The eight ¼-inch depth effectively keeps private information safe from onlookers, providing an excellent accessory in testing, banking, and medical facilities.
At the core of our monitor hoods is a high-density fiberboard, the outside covering is a very tough embossed cloth material (similar to book covering) and the interior is a durable non-reflective woven material that is neutral gray. An elastic cord holds the hood in place and makes for easy installation and removal when desired. The elastic cord attachment allows for a wide range of variation of monitor shapes. Rigid plastic strips on the front edges provide reinforcement, protection, and a finished look. These hoods are intended for indoor type usage.
Monitor Hoods are made in-house, and we provide all of the essential items needed for simple no-hassle installation, including bumper buttons for positioning, foam strips for cushioning and light blocking, and detailed installation instructions.
This custom monitor hood ships flat, ready to be unfolded and the elastic cord attachment is pre-installed and ready to be mounted. (Also see installation video on adjacent tab).
Notes:
Monitor hoods do not block light coming from behind the viewer or eliminate reflections in rooms with excessive lighting.
If your monitor has heat exhausting vents along the top edge, a hood will block these vents unless you use something to lift the hood slightly.
Comparing Monitor Hoods to Screen Protectors: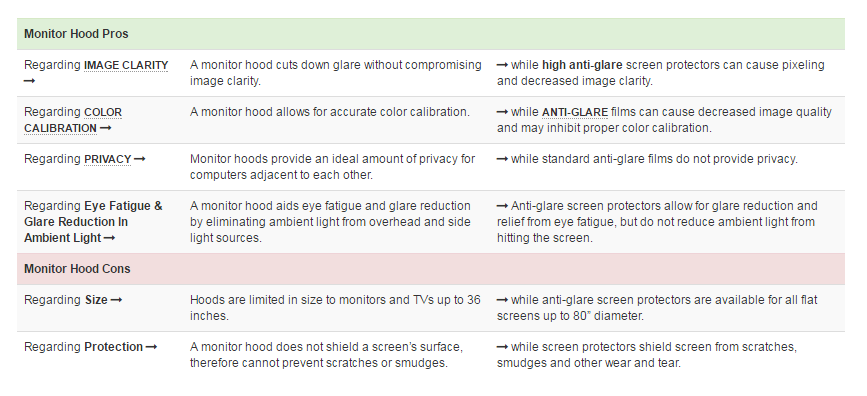 Hood Options
Dual Monitor Hood:
Our adjustable Dual Monitor Hood option covers two identical monitors side by side. The angle of the screens is adjustable from straight across and up to 45-degrees.
Calibration Door:
The calibration door option is for professional persons who calibrate their monitors. The calibration process ensures the color seen on the screen is the same as it will be when printed either in-house or at another facility. The sliding door size is 3" x 2.25" and is available for all 8.25" hoods.
Slim Hoods:
The slim monitor hood provides a reduced depth option at 6-inches from front to back, lighter weight, but same professional design and attachment.
Product Name
Custom Standard (8.25-inch depth) Monitor Hood
Photodon Part #
112
Included in Order

One fully assembled monitor hood
Light blocking foam strips
Bumper buttons for positioning and support
Installation instructions

Specifications
Size
Varies per selected
Color
Black, gray interior
Packaging Type
Single
Composition
Fiberboard base, exterior vinyl, and light absorbing gray cloth interior
Weight each
1.5 lbs
Other
N/A
Options
Calibration Door
Dual Monitor Capability
Adhesive Velcro Strips
Notes
Calibration door option provides an opening that allows for monitor calibration without having to remove the hood. It is located in the center rear of the top panel and measures:
Standard: 95x84 (3 3/4"x 3 1/4")
Slim: 113x50 (4 1/2"x 2")
Oversized: 76x57 (3"x 2 1/4")
Reference More Info
Monitor Hoods Information
MFR Part #
112
MSDS Sheet
N/A
Spec Sheet
N/A
Origin - Manufacturing & Assembly
USA - Traverse City, Michigan, USA
Works as stated
Thomas Cooper
09/14/2021
Verified Buyer
I purchased a custom hood for my 32" LG Monitor. I purchased the slim model and am very happy with it. I probably should have purchased the standard size, but this one works well. It is very easy to install and the measurements are spot on right. The order was processed and received in a few days. The product was well packed for shipment and I commend this organization. They say what they do and they do what they say. Very commendable these days. Please do not publish my email address.
Thomas, thank you so much for taking time to write a review about us and your monitor hood. We appreciate the positiveness and know that you'll be happy with that hood for a long long time. Thanks again!
First Class
Martin Mannette
05/31/2021
Verified Buyer
service with precision cut products. Thanks for replacing the one order lost in transit.
Hi Martin, We're so glad you received your product and are happy. Thanks for your business!
Nice Product... Great Value!
Jim Arnreson
11/12/2020
Verified Buyer
I purchased hoods for two EIZO CG277 monitors. They work exactly as advertised and arrived in just a few days. Completely satisfied!
Right to the point - thank you for the positive review, Jim! We are pleased that your hood monitors made it to you so quickly and that they are working well for you. Thanks again!
Terrific Hood
steven schneider
08/14/2020
Verified Buyer
Pros:
Steven Schneider Construction
Cons:
Excellent customer service. Representative went thru everything with me on the phone and order was filled immediately. Awesome product!! Did the job!!
Steven, thanks for the positive feedback! We enjoy hearing when customers experience our fantastic customer service and superior products. We're glad you like the hood for your ViewSonic VP3881!
Awesome custom hood
David Verona
08/14/2020
Verified Buyer
I have a 34" curved Alienware AW3418DW / AW3418HW editing monitor and I ordered a custom made hood. I couldn't be happier with the excellence of this company. From Drew in customer service which is outstanding to the actual product quality which is superb. It is very light and constructed incredibly well. It was so easy to install and adjust to fit. It only took minutes to snap it on and to micro adjust. I love this product. Shipping was fast and packaged so well. I recommend this product because it does exactly what it's made for. It blocks out residuITal light from all angles and lessens eye strain. Great product!!!
David, we're happy you've been able to experience how our monitor hoods block out the light and help with eye strain. It's great to hear that it fit your Alienware AW3418DW / AW3418HW so well and was easy to install. Thanks for the positive feedback!
Custom Hood for Mobile Print Studio
Jon Jeffress
07/16/2019
Verified Buyer
Pros:
Deep South Focus Photography
Cons:
https://www.DeepSouthFocus.com
I have a mobile print studio and often have glare issues from the light around the van. This hood was easy to install and helped tremendously with glare reduction.
We're glad we could help, Jon. Thanks for the feedback.
Awesome hood
Sk
05/28/2019
Verified Buyer
Pros:
easy to install, fits great, good quality material
Cons:
none
Hood works beautifully & was easy to install after watching the instructional video. They stayed in place during outdoor use over the weekend too. Customer service was excellent, going above & beyond expectations to make sure I had the exact items/sizes I needed. Will definitely order again if I need more hoods in the future.
We're so glad the hoods are working out for you! Thanks for the feedback.
Monitor Hood
Madeleine Dion (Canada)
07/09/2018
Verified Buyer
Pros:
Good materials, very easy to install
Cons:
None
Very good product, custom product available, fast delivery, excellent customer service
Merci, Madeleine!
Perfect!
David E.
09/17/2017
Verified Buyer
Pros:
Ease of installation. Matte black interior. Adjustability.
Cons:
None for me
I ordered the Custom Standard for my HP w2558hc monitor. As advertised it took me only a few minutes to install and get everything just right. For blocking out nearby lights while doing photo-processing, this is just perfect. It eliminates all the glare from a nearby window at certain times of day. I also got the color calibrator window built into the top so I can use my Spyder monitor calibrations very easily. I love it!
Thanks for the feedback on your hood experience, David! We appreciate it.
Photodon Monitor Hood
Tom
09/29/2016
Verified Buyer
This monitor hood is the best add-on to my workspace I have ever purchased. It is inexpensive, easy to install, and blocks all the overhead and side glare from the office lights. Since installing it my headaches have ceased and my eye fatigue is far less than it used to be.
Thank you for such a glowing review, Tom! It makes us happy to know that we're helping you with your eye fatigue and headaches!
Works great
Terri
08/22/2016
Verified Buyer
Pros:
easy set up, secure
Cons:
none
The monitor hood arrived quickly, set up was very easy, and the structure is very secure. I ordered mine with the calibration tool window on top, and it works great for that purpose.
Thanks for the feedback, Terri! We hope you have many years of good usage of the hood.
Works as expected
Aman Gupta
04/17/2016
Verified Buyer
Is made of good quality material, not hard to install.
Chuck(Moberly, MO)
12/05/2014
Verified Buyer
Pros:
Fits perfect
Cons:
none
Unit fits perfect, easy to order and quick to receive. I will buy more when needed.
Steve(Bethesda, MD)
11/07/2014
Verified Buyer
Pros:
All around great deal
Cons:
None
Custom fitted to my big monitor at a great price, easy on and off, very happy with the product.
Havanai(Chicago, IL)
08/15/2014
Verified Buyer
Pros:
Fit and Easy Installation
Cons:
None that I can discern
I customized the length, and even with that, the delivery was pretty quick. Took it out of the box and followed instructions to mount it to my monitor. Went on easily and I didn't even need the little buttons or foam strip they include with the hood. It all just worked.
Legal Hobbit(UK)
04/30/2014
Verified Buyer
Pros:
Easy to take on and off
Cons:
I have a lovely bright office with a view of the garden but sometimes the glare on my screens made it uncomfortable to work. The Photodon hoods have made a huge difference. Because they stay on even when not secured, it means I can take them off when the weather is cloudy (thereby improving my view of the garden) and put them on when the glare is very bright (thereby making sure I can continue working even on those rare occasions when it is sunny in England ;)
Jason(Manhattan)
04/16/2014
Verified Buyer
Pros:
Easy to assemble
Cons:
n/a
We have been replacing our old floppy fabric hoods with these sleek and effective custom hoods from Photodon for a while now, and will continue to order them as we add to our staff. Some of the monitor models that we have are not sold new anymore, meaning manufacturer hoods are also not available - but these hoods beat the manufacturer's anyway!
George(Florida)
01/03/2014
Verified Buyer
Pros:
Works exactly as advertised
Cons:
None
Easy to install. Fits snuggly. I have the 8 inch hood and it could be even deeper for my purposes. If a deeper one becomes available I may replace this one.
Ken(SoCal)
05/10/2013
Verified Buyer
Pros:
Helpful customer service!
Cons:
None
These were tailored to fit displays and the results were excellent!
kirigiri(California Bay Area)
12/07/2012
Verified Buyer
Pros:
Protects against glare
Cons:
Could be even deeper
I bought the 8.5" deep hood to protect against glare. It could be even deeper, so I wouldn't recommend the 6" deep hood. As apposed to the review by Athenian, I wouldn't say that the installation was particularly tricky, although I agree that precise measurement of your monitor width is necessary.
Andy A(Phoenix,AZ)
12/07/2012
Verified Buyer
I needed a shade for my laptop to use in the AZ sunshine. It looks better in person. It installed quickly, and I could easily see the entire screen. Highly recommended!
Athenian(Athens, Ga, USA.)
11/30/2012
Verified Buyer
Pros:
works
Cons:
hard to install
Measure your monitor precisely when you order because they construct the hood to fit. I wrongly assumed I would be able to adjust the width. Installation was not easy to figure out, but once I figured it out it stays on well.
jackie-pooh(USA)
09/21/2012
Verified Buyer
Pros:
they work!
Cons:
none
Rick W.(northwest Indiana, USA)
03/26/2012
Verified Buyer
Pros:
courteous, prompt staff
Cons:
none
I had a problem attaching the hood to my LCD monitor. A phone call away was a real person on the end of the line whose quick understanding solved the issue I had. Great support!
None(Fresno Ca)
03/16/2012
Verified Buyer
Thank you so much for your great products and service. I am very Pleased Thank you...
Trey(Sacramento)
10/15/2010
Verified Buyer
Pros:
Got product to me fast
Cons:
none
Friendly staff, I needed to hood for my monitor fast and they got it to me in time. Great quality too. Thanks!
Alan(New York City)
04/03/2010
Verified Buyer
Pros:
clean finish
Cons:
attachment to monitor
My only problem is with the attachment of the hood> either I can't read instructions or they are not clear. I finally mounted it on my flate panel after specking to customer service, but it is still unstable and snaps off the screen every so offen.