Monitor Hoods
30 Day Money Back - Satisfaction Guaranteed
The Photodon Computer Monitor Hood
Professional Design

Custom made to fit your monitor up to 34" W
Fully assembled and ready to install



Shaded Benefits

Reduces screen glare and eye fatigue
Shades from window and overhead lighting



Privacy

Increases privacy between adjacent computers
A great addition to any testing facility



Compatibility

Great for most desktop monitors and small televisions
Comes in 6" and 8.25" depths
Read what our customers are saying about us!
Dear Sir,
Thank you for sending the monitor hood, I received it Monday 18th, very prompt. The hood is marvelous, I no longer have the window shining on my screen. It's made going on the computer a pleasure, thank you.
D.Mitchell.
| Attribute | Monitor Hoods | Screen Protectors |
| --- | --- | --- |
| Image Clarity | Cuts down glare without compromising image clarity. | High anti-glare can cause pixeling and decreased image clarity. |
| Color Calibration | Allows for accurate color calibration | Anti-glare films can cause decreased image quality and may inhibit proper color calibration |
| Glare Reduction | Obstructs overhead and side light sources. | Allows for glare reduction, but does not obstruct light. |
| Eye Fatigue | Aids eye fatigue by eliminating ambient light. | Anti-glare will reduce screen reflections. |
| Compatibility | Compatibility limited to monitors and small TVs up to 36". | Compatible for all flat screens up to 80" |
| Protection | Does not shield screen, therefore cannot prevent scratches or smudges. | Shields screen from scratches, smudges and other wear and tear. |
| Privacy | Provides an ideal amount of privacy for computers adjacent to each other. | Standard anti-glare films do not provide privacy. |
Monitor Hood Features and Options
Calibration Door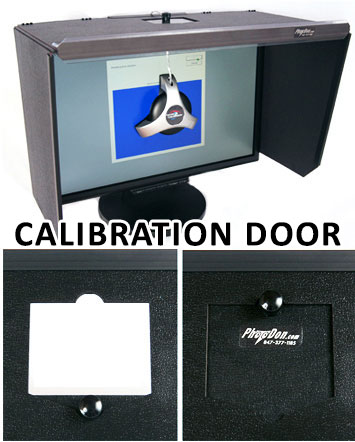 Durable outer mat-board material with impala embossing.
Light absorbing, gray inner woven material is ideal for professional users who need to maintain true colors.
Inside surface provides space for program-shortcut notes, photos and other inspirational notes.
Quick elastic cord installation and removal.
Offers options by creating a localized shaded environment in situations where your co-workers may have different needs.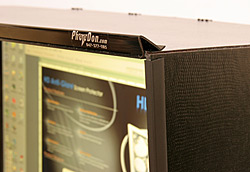 The one piece top front edge:
Standard for All Hoods, Increases stability of the hood, Decreases the set-up time, No sagging across the top.
Read what our customers are saying about us!
Don,
Thanks so much for getting everything out so quickly - the hoods arrived by noon, and we had them installed in the next hour. 24-hours from order to installation is pretty good!
Thanks for your help.