Monitor Hood Frequently Asked Questions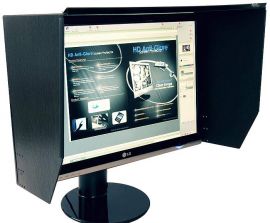 What is a monitor hood?

Photodon's monitor hoods are designed to help provide your monitor with shading from overhead or window light. The hoods come fully assembled and ready to install. There are two options for the depth of the hood: 8.25 inches "standard" model and 6 inches "slim" model. The hood material has a professional look and feel, and is suitable for open office settings where one might want to create a sense of privacy around their work station.




Photodon sells single and dual monitor hoods. The dual monitor hood is suitable for those who have two side-by-side monitors for which they are trying to block ambient light glare and/or they are needing a sense of privacy. A dual monitor hood can also be built for a curved monitor.




When purchasing a single monitor hood, you have the option of choosing a calibration door for an additional charge. This door was designed for use with color-critical calibration tools.




Customers find that using the monitor hoods helps reduce eye-strain and give privacy.

When would I need to order a custom hood?

If you are unable to find your monitor on our website, then you will need to order a custom-sized hood. It's easy, and there are no additional costs involved with ordering a custom-cut monitor hood. You'll need to provide us with a few dimensions. That's it!

How do I order a custom-cut monitor hood?

Here is what we need from you:

Go to the Custom Monitor Hood Page on Photodon's website.
Measure the monitor's outside top width and the monitor's outside top-to-bottom height.
Provide the Make and Model number of your monitor.
Indicate whether you would like a calibration door installed on your custom-cut monitor hood.
Check out.
Custom-cut monitor hoods are generally shipped out within 48 hours of purchase.

How do I install my Monitor Hood?

Installing your Monitor Hood takes just a few minutes. These steps include:

Unbox
Remove shrink wrap
Unfold sides
Place on monitor
Tighten the elastic cord
Apply support buttons.

If you need additional help, please refer to our printable PDF file here, or for additional help check out the Video!

Are the hoods adjustable?

Single and dual monitor hoods from Photodon are custom-made to fit your model. Our new slotted design allows for some minor adjustments and the elastic cord attachment on the hoods allows for a wide range of variation of monitor shapes.

Dual monitor hoods ARE able to adjust the angle between monitors. They hinge up to 45 degrees.

What are the hoods made of?

Our hoods are made of durable, high-density board.
The base material is known as chipboard in the industry, similar to what is commonly known as mat-board.
The outside material is black vinyl with impala embossing.
The interior material is a durable, light-absorbing 18% gray woven material.
Both interior and exterior materials can be cleaned but the hood should not be submerged in water.

Will the monitor hood mount on a flat panel and CRT displays?

Yes. Our hoods will mount to both flat panel monitors as well as CRT (Cathode-ray tube) monitors.
The elastic cord attachment allows for a wide range of variation of monitor shapes.

Do your hoods work with calibration devices?

Yes. To accommodate calibration devices, we can add a calibration door to the top center of the hood for an added fee of $30 (standard hoods only).
The calibration door allows you to calibrate your monitor without removing the hood from the monitor.
The opening measures 3 x 2 inches.
Select this option at time of purchase.

How are the hoods packaged?

Each hood is custom made and pre-assembled. Hinged sides allow it to fold flat for shipping.
For added protection, hoods are shrink wrapped and the edges are wrapped in bubble wrap before placing into a box for shipment.

What do I do if my hood tips or drifts forward?

On certain flat panel screens the weight of the hood may cause the monitor to drift down. In this case, cut foam or cardboard to the proper size and place between the monitor and the support bracket(stand) at the back of the monitor.

Also, we offer a shorter, lighterweight slim hood that has a 6" depth front to back. To order, visit here.


---
More FAQ's
►
Screen Protectors
|
Privacy Filters
|
Microfiber Cloths
|
Promotional/Custom Microfiber Cloths
|
Ordering and Payment
|
Screen Cleaning
---