Shipping, Warranty, and Returns
Shipping, Warranty, and Returns
Calculating Shipment Cost:
Add all items you wish to purchase to your cart. This brings you to your basket contents page.
At the right of your basket contents page, click "Calculate Shipping."
Type in your zip code and country information.
Click "Update" to view estimated shipping fees based on various service options.
Complete checkout or continue shopping.
Domestic Shipments:
U.S.P.S. First-Class Mail® Parcel (packages under 13 oz.): 2-5 business days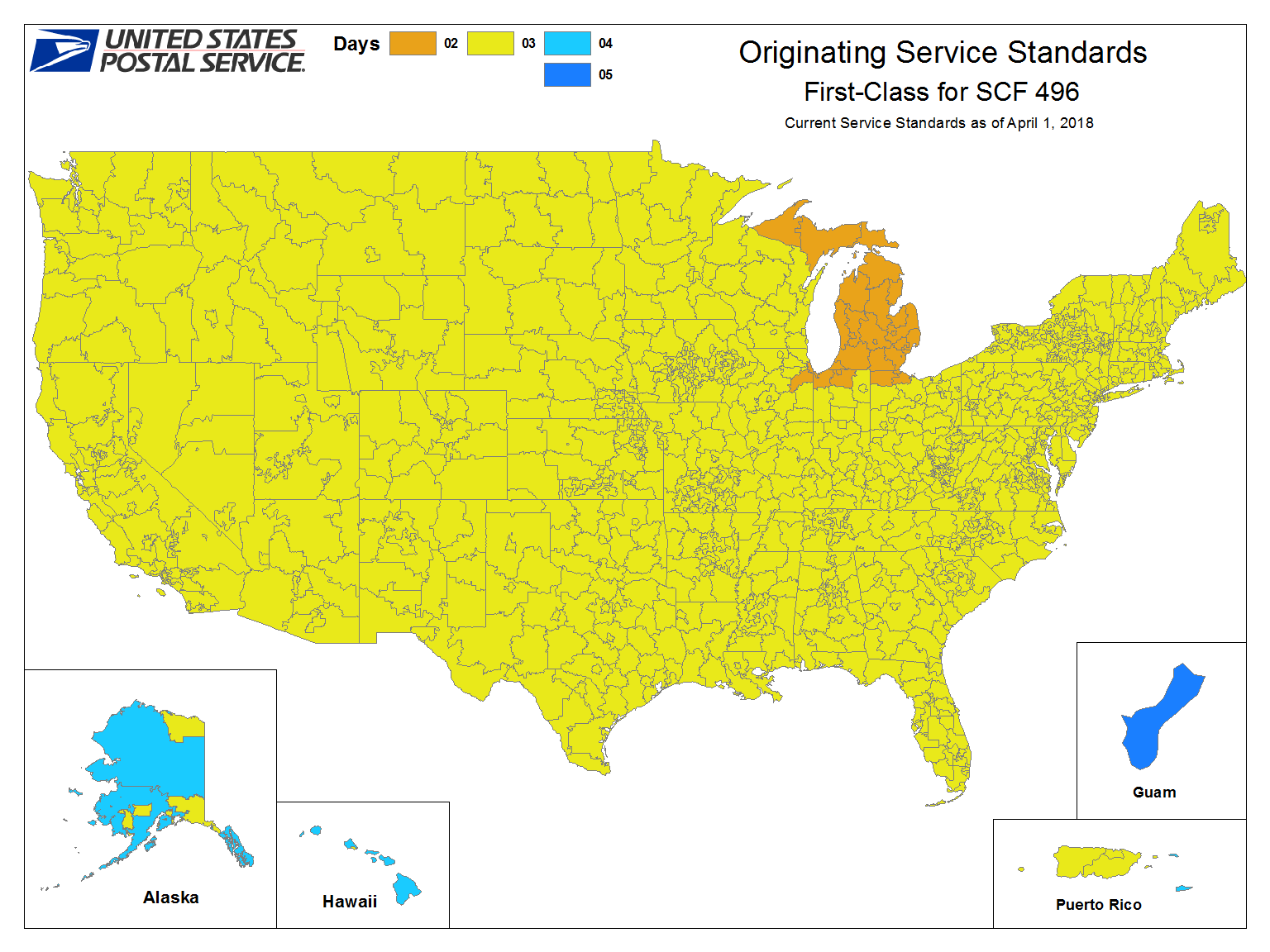 (view larger)
U.S.P.S. Priority Mail®: 2-3 business days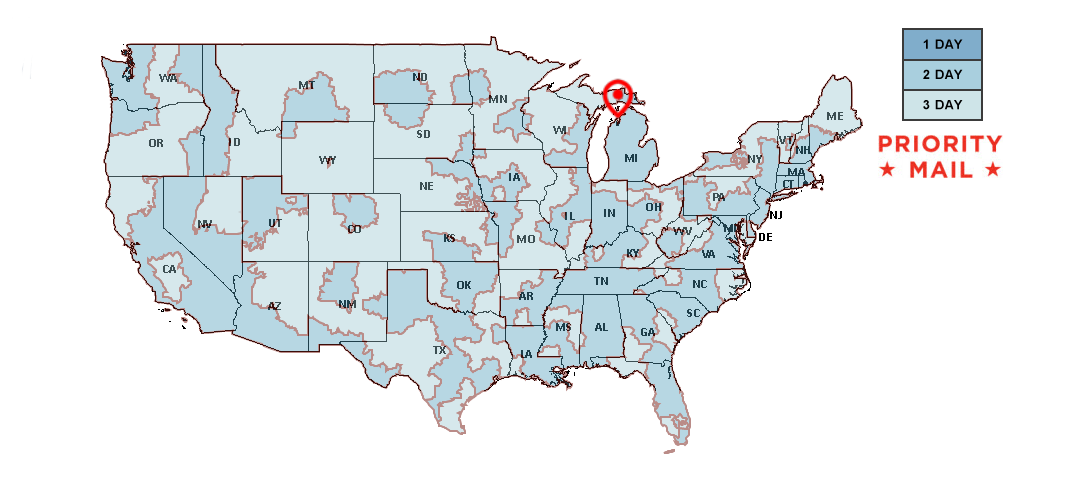 (view larger)
Standard Ground: Monday-Friday: 1-6 days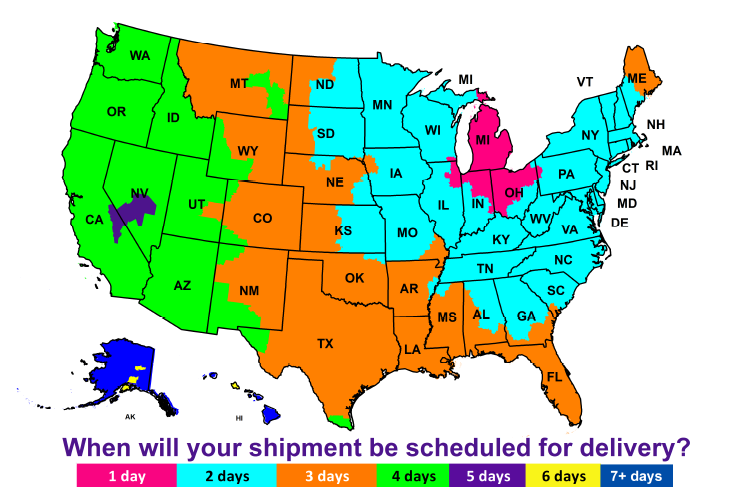 (view larger)
Two Day: Mon-Fri delivery: 2 days from day shipped. For example: Ship Monday would arrive on Wednesday
Standard Overnight: 5:00 p.m. delivery.
Priority Overnight: 3:00 p.m. delivery.
First Overnight: 10:30 a.m. delivery.
International Shipments:
For consumer B2C orders:
Photodon ships via the United States Postal Service (USPS). With this service, the USPS delivers to the destination country's customs office, at which point that country's postal service is responsible for the delivery of the package.
There is a large degree of variance in how each country handles their customs collections and final delivery of packages. Therefore, we can not verify whether packages will be delivered to your door, or whether you will have to pick them up at your local postal center after customs or duties have been paid. In most cases, whatever postal delivery method you normally receive packages is how you will receive your package from Photodon. (i.e. if you normally receive your mail at your door, then that is the way you will receive your order from us). Please keep in mind that destination customs offices may impact timely delivery of packages.
The customer is responsible for any additional customs duty fees and/or local taxes. Costs listed during checkout are for postage carrier only. The rates listed are directly from the USPS postal service website; we do not add anything to them.
The following shipping methods are available:
USPS International 1st Class/Standard: 7-21 business days, not available in all locations. (NOT trackable)
USPS International Priority: 6-10 business days, up to 21 business days, if delayed by customs (Recommended and most commonly used)
USPS International Express: 3-5 business days (Most expensive)
For business B2B clients:
We prefer to ship using our international business partners' shipping account because that is where our clients receive the best rates. We're most familiar with using FedEx, UPS, and DHL. Please make inquiries to sales@photodon.com if you wish to use a different carrier.
For more detailed information about international shipping, please go to this page.
Shipping Large Orders
Photodon does our best to calculate accurate shipping. However, sometimes our website calculator does not correctly charge for multiple items, large items, or heavy items. We review every order and will reimburse you if extra shipping charges are added to your order. On a rare occasion, we may contact you to collect extra fees for shipping.
Shipping / Store Policies:
Orders ship Mon-Fri, except postal holidays. Most orders ship from Michigan.
Photodon is a custom shop. Each order is custom cut and packaged. Orders of 1-9 pieces are typically processed within 1-2 business days. Larger orders may take a few additional days. Please contact customer service at 847-377-1185, M-F, 9-5 EST if you need your order rushed.
All prices are in US dollars.
An order confirmation e-mail is sent immediately after you place your order online.
Once the goods have left our premises you will receive a tracking number. Delivery becomes the responsibility of the carrier and/or service used. We cannot be held responsible for late, delayed or non-delivery of goods. We will do all that we can to assist you with any delivery problems reported to us.
In the case of a package returned to us as undeliverable, we will make an attempt to contact you. In the case of no resolution we will issue a full refund (excluding shipping charges). A new order will need to be placed if you still wish to receive the product(s).
Photos of products may not be exact or may represent a product family. However, we do our best to keep our images current.
Touché™ Screen Protector Limited Warranty
Photodon has a five-star reputation for providing high-quality, long-lasting screen protectors. In fact, we offer a 18-month limited warranty and a 30-day 100% money back guarantee* on our products. Purchase with confidence knowing that with our Touché™ brand product warranty we do everything possible to be fair when considering the replacement of your screen protector.
Here is what we do to stand behind our products:
Our Limited Warranty Covers:
Delamination
Defects in materials
Defects in workmanship
Durability under normal usage
Loss of screen protector's anti-glare properties
The warranty for our screen protectors is valid for a period of 18 months from the date of purchase (on the device originally purchased for).
This warranty does not cover the following:
Damage caused by using the product outside its intended use
Heavy exposure to sun, water, or other extreme weather and/or temperature conditions
Damage caused by using harsh cleaning chemicals
Damage to films during installation
Damage to films due to heavy usage
Damage caused by altering the product
International shipping costs of replacement screen protectors
*30 Day guarantee may not apply to B2B transactions.
30 Day - 100% Money Back Guarantee*
If you have an issue with our products, we would like to work with you to try to fix the situation. Please send a photo of your issue to sales@photodon.com noting the problem. If you'd like to speak with a customer service representative, you can contact us at 1-847-377-1185, Mon–Fri 9-5pm EST.
If you are unsatisfied with the performance or quality of our products, contact us within 30 days of receipt of product. A full refund of the product price plus standard ground shipping costs will be issued. In some cases, Photodon may not request a return of the product before a refund is issued. Please contact us before shipping it back.
*Exclusions:
Films over 30" diagonal and orders over $100:
A 25% handling fee may be charged.
Installations:
Dissatisfaction due to installation issues. We will replace your film for 50% of the original purchase price, should you desire a replacement. Shipping costs not included.
Custom Products:
Items made to your specifications and returned in like-new condition within the 30 day warranty period will have the option of receiving a replacement at a 50% discount or a 50% refund of the original product. Shipping will not be refunded.
Wrong Item Ordered:
Shipping costs if the wrong item was ordered will not be refunded. Purchase price will be reimbursed excluding a 25% restocking fee, upon Photodon's receipt of returned item in like-new condition.
Rush Fees:
Orders that incurred a rush fee will not be refunded the rush fee.
After 30 Day Warranty Period:
With the return of product in like-new condition (exclusions above apply)
15% restocking fee
If you are returning film that is covered under the 18 month warranty, the restocking fees do not apply and Photodon will replace the item with the same or a similar film type.
*30 Day guarantee may not apply to B2B transactions
Non-B2B Returns:
Should you decide to return your product, please follow these instructions:
Contact us to see if we can provide a solution, if we need the item returned or for an RMA# (Return Merchandise Authorization)
Complete the Photodon Return Policy form and include it with your return.
If returning film, PLEASE HANDLE CAREFULLY! Film is fragile until applied. If re-rolling film, carefully roll it using light pressure. Package item(s) as carefully as they were when sent to you.
B2B Returns:
Most Photodon products are made on demand and are not considered a stock item.

For orders made to your specifications OR orders over $100:
50% restocking fee will be charged for items returned in like-new condition
Shipping fees will not be refunded unless the issue was Photodon's error
Goods must be returned within 90 days to be considered for a refund
Orders being returned after 30 days from purchase may incur an additional 15% restocking fee
Rush Fees will not be refunded
Resellers:
All policies above apply however the 50% restocking fee will be calculated from the price the general public would receive (without Reseller Discount)
Please Note: Purchase Orders are a legally binding contract to commence work. Returns may be handled differently when a purchase order has been submitted.

If dissatisfied with our product, please contact Customer Service at 847-377-1185 or email sales@photodon.com so we can help to resolve the issue or provide you with an Return Authorization Number.

Fill out the B2B Return Form and include it in your return package. Once your goods are received we will inspect the product & issue a refund per the B2B Return Policy guidelines.
Please send return shipments to:
Photodon, LLC
Attn: Returns Dept.
1517 Northern Star Dr. Suite A
Traverse City, MI 49696 USA

All returns must be made using a shipping service which will provide Photodon with a tracking number. If you are returning an item valued at $100 or more, insure the shipment for the value of the merchandise. If a package doesn't arrive and you don't use a trackable method to return, or if you refuse the shipment as a method of return, we may not be able to cover you under the our warranty policy.