Asus 23.6-inch VH242 Monitor Hood
Asus 23.6-inch VH242 Monitor Hood
Asus 23.6-inch VH242 Monitor Hood
Price: $68.75 68.75

SKU: 112-AS-115-24
Asus 23.6-inch VH242 Monitor Hood
Reduces screen glare and eye fatigue
Shades from ambient overhead and side/window lighting
Aids in color calibration consistency
Increases privacy - Helps keep information on your screen private
Professional, thoughtful design that is easily installed or removed
Allows for better concentration from busy environments
Keeps your screen cleaner, less dusty.
Made in the USA
This monitor hood is built specifically for the Asus 23.6-inch VH242 monitor! It measures 22" horizontally (55.8cm) and 14" vertically (35.5cm) and is 8.25" deep (20.9cm). (Slim Hoods = 6" depth 15.2cm)
Our new design features include:
New slimmer-looking design
Improved exterior material durability
Stronger elastic attachment cord
Small notch on each side to access USB ports
This fully-assembled, easy-to-install monitor hood creates a shaded environment for your screen, offering serious anti-glare and privacy protection, which is ideal for those involved in color-critical work. The eight ¼-inch depth effectively keeps private information safe from onlookers, providing an excellent accessory in testing, banking, and medical facilities.
At the core of our monitor hoods is a high-density fiberboard, the outside covering is a very tough embossed cloth material (similar to book covering) and the interior is a durable non-reflective woven material that is neutral gray. An elastic cord holds the hood in place and makes for easy installation and removal when desired. The elastic cord attachment allows for a wide range of variation of monitor shapes. Rigid plastic strips on the front edges provide reinforcement, protection, and a finished look. These hoods are intended for indoor type usage.
Monitor Hoods are made in-house, and we provide all of the essential items needed for simple no-hassle installation, including bumper buttons for positioning, foam strips for cushioning and light blocking, and detailed installation instructions.
This custom monitor hood ships flat, ready to be unfolded and the elastic cord attachment is pre-installed and ready to be mounted. (Also see installation video on adjacent tab).
These hoods are custom made for the monitor noted in the title, but can be readjusted in width, larger or smaller, to fit your next screen with a few minor adjustments. Custom hoods are available to fit monitors not already listed on our website, up to 36" wide, see our custom hood page: https://www.photodon.com/c/Custom-Monitor-Hoods.html
Notes:
Monitor hoods do not block light coming from behind the viewer or eliminate reflections in rooms with excessive lighting.
If your monitor has heat exhausting vents along the top edge, a hood will block these vents unless you use something to lift the hood slightly.
Comparing Monitor Hoods to Screen Protectors: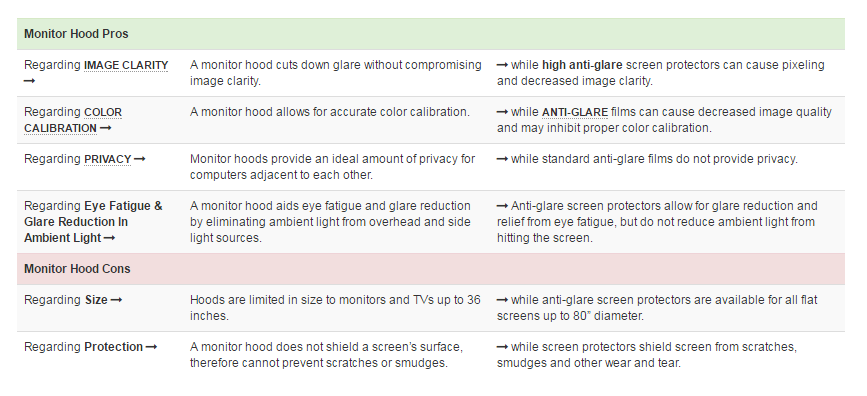 Hood Options
Dual Monitor Hood:
Our adjustable Dual Monitor Hood option covers two identical monitors side by side. The angle of the screens is adjustable from straight across and up to 45-degrees.
Calibration Door:
The calibration door option is for professional persons who calibrate their monitors. The calibration process ensures the color seen on the screen is the same as it will be when printed either in-house or at another facility. The sliding door size is 3" x 2.25" and is available for all 8.25" hoods.
Slim Hoods:
The slim monitor hood provides a reduced depth option at 6-inches from front to back, lighter weight, but same professional design and attachment.
Product Name
Asus 23.6-inch VH242 Monitor Hood
Photodon Part #
112-AS-115-24
Included in Order

One fully assembled monitor hood
Light blocking foam strips
Bumper buttons for positioning and support
Installation instructions

Specifications
Size
22"W x 14"H x 8.25"D ( 55.8 cm x 35.5 cm x 21 cm )
Color
Black, gray interior
Packaging Type
Single
Composition
Fiberboard base, exterior vinyl, and light absorbing gray cloth interior
Weight each
1.5-2 lbs depending on size
Other
N/A
Options
Calibration Door
Dual Monitor Capability
Adhesive Velcro Strips
Notes
Calibration door option provides an opening that allows for monitor calibration without having to remove the hood. It is located in the center rear of the top panel and measures 3" x 2".
Reference More Info
MFR Part #
112-AS-115-24
MSDS Sheet
N/A
Spec Sheet
N/A
Origin - Manufacturing & Assembly
USA - Traverse City, Michigan, USA