Give your event, business, or organization an edge!
A microfiber cleaning cloth can be used to clean screens, lenses, scopes, cameras, phones, and so much more! Why not put your logo, photo, or even a map to your location on a cloth to help a person remember what you're all about?
Business cards can get tucked away and forgotten. Flyers are often too big and get tossed out. Folks like something that they can actually use and even share with others. Wouldn't it be great if they were using and sharing your personally designed promotional cloth?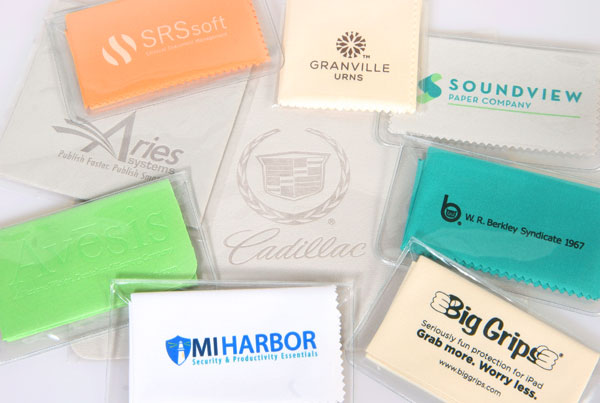 Make it your own!
You tell us what size, color, edging, cloth type*, and packaging would match your cause! Submit your art, photo, and/or logo and have it printed on your microfiber cloth.
We also offer options such as allover prints, embossing, and tags for your promotional microfiber cloths.
Use a promotional cloth to get the word out about the grand opening of a business, special events, product promotions, services, sports teams, awareness, and more! While everyone else is passing out flyers or cards, you can give out something people will actually want; something that you can be proud to have your name on!
We are happy to help with any question you may have.  If needed, please contact us at 847-377-1185, M-F 9:00am – 5:00pm EST, or email us at [email protected].