Keep a cleaner and healthier work place!
Be rid of dust, streaks and fingerprints!
Clean all of your screens: at home, school, the office or anywhere you share/use a screen! The Photodon Ultra Screen Cleaning Kit has everything you need to make your display sparkle like brand new!
This kit includes our very own Photodon Ultra Screen Cleaning Solution!
Photodon Ultra is one of the safest screen cleaners available on the market today! This eco-friendly solution and special diamond weave microfiber screen cloth combination are the best values in screen care products.
Spray your microfiber cloth with Photodon Ultra Screen Cleaner and effectively clean virtually any screen surface!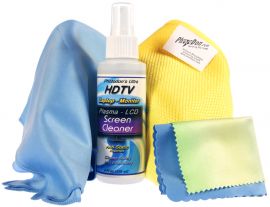 The 4oz Photodon Ultra Screen Cleaning Kit is handy to use for cleaning touch screens, LCDs, Plasmas, Projection TV's, desktop computers, laptops and tablets, GPS units, MP3 players, Smart Phones… any device with a screen will clean up in seconds when you use Photodon Ultra Screen Cleaner and a great microfiber screen cloth (like the ones provided in this kit!)
Safe for your screen, safe for you and the folks around you; why would you ever use anything else?
Place your order today and receive FREE standard mail shipping(US orders only).
I'm outta here for now! Thanks for reading!