Screen protectors first and foremost protect screens from irreversible damage such as scratches, dings, and harsh cleaning chemicals. You can also use them to help protect your health, increase privacy, and reduce glare. Most importantly, preserving your screen clarity makes your device useable for more years, saving you money and helping the environment.
The very first screen protectors in the early 2000s were transparent and glossy. Manufactures have, over the years, added features to increase the usefulness of these screen savers. The first was to create an anti-glare material, and they did this by etching the outer surface. While this made an anti-glare, it also resulted in pixeling (distortion of the screen image). These early versions of anti-glare were not suitable for close-up viewing of text or for color-critical applications.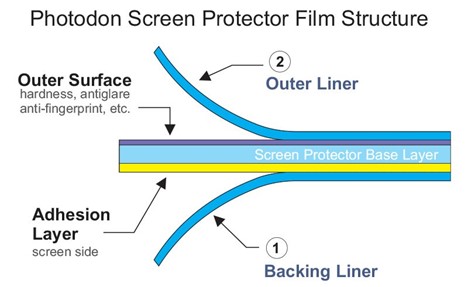 Technology has since improved and advanced to correct pixeling and has gone on to solve many other problems. Manufacturers now offer clear, anti-glare, anti-microbial, blue-light cut, privacy, shock-absorbing, hard-coated scratch-resistant, ultra-thin flexible materials, and many other specialty materials. Most screen protectors are used on flat screens and adhere to the screen with silicone resin. The new ultra-thin products usually have a higher adhesion and can bend and adhere to curved surfaces such as phones that wrap around OLED screens and large curved monitors.
When purchasing a screen protector, it would seem like a simple, straightforward decision, and it can be if you want general screen protection. But for those who have a unique application or need to purchase for a product that you or your company are manufacturing, you need to get the best screen protector that meets specific standards or requirements. For instance, will the device be used indoors or outdoors, be used on an office monitor, a drawing tablet, a vehicle in-dash vehicle in-dash, or a public kiosk? Each of these devices have special considerations.
1. What is the main reason(s) you are looking to cover your device screen?
a. Extending the life of your device
Most screen protectors cover the screen to keep it looking new. However, cheap screen protectors may not have the clarity you need. A higher-quality screen protector with other features may better fit your needs.
b. Reducing screen surface glare

Glare reduction is accomplished on a screen protector by two methods: etching or, most recently, by applying nanoparticles evenly over the outer surface. This newer method creates a much better image than the anti-glare materials of years ago, significantly reducing past pixeling issues.
If it is most important to maintain image quality, reading text, or working with color-critical applications such as Photoshop or prepress work, you are best served by considering a light anti-glare or no anti-glare (glossy) screen protector. Medium to heavy anti-glare screen protectors will gray out in sunlight when viewing from the side. In addition, for some color-critical applications, consider purchasing a monitor hood to reduce ambient light on the screen. A monitor hood puts nothing between you and the screen image and takes some of the overhead and side light off the screen. Photodon makes monitor hoods for almost any monitor for both office and industrial applications.
c. Protecting from excessive cleaning or harsh cleaning chemicals
These can degrade the screen when cleaning repeatedly, especially with chemicals such as bleach or alcohol.
Using the wrong cleaner on a screen can permanently damage the anti-glare and other coatings of your device.
d. Reducing fingerprinting
Fingerprints on a touchscreen such as in a vehicle can be incredibly annoying; using a light anti-glare screen protector will help with this issue. Avoid higher anti-glare in vehicles as they tend to gray out when viewing from an angle. Oleophobic coatings allow the removal of fingerprints more easily by utilizing a microfiber cloth.
e. Eliminating most germs and microbes
Anti-Microbial
If you have concerns about germs and microbes on your touchscreen, especially on a shared device, an anti-microbial screen protector may be the product for you. The top layer contains zinc, and microbes cannot live on surfaces that contain zinc.
f. Protecting eyes and help with sleep patterns
Blue Light Cut
Help regulate your sleep patterns. Blue light from the screen can disrupt your body's natural production of melatonin.
Reduce eye stress; reducing blue light reduces eye stress related to long hours of screen viewing.
Screen protectors that block the Ultraviolet spectrum act more like filters because they filter out most UV and the highest end of the blue light spectrum. Filters work in both directions so that a blue light cut material will protect both the display from direct sun and the user from any UV and higher end blue light.
g. Protecting information on the screen
Privacy Filters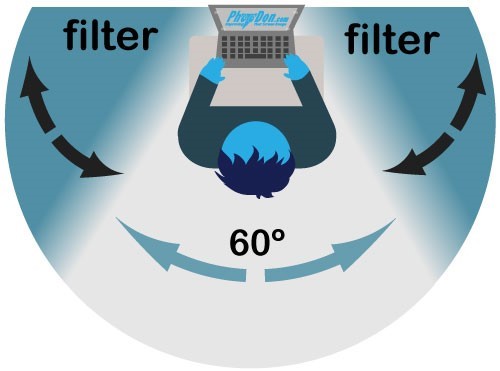 Privacy filters reduce visibility of information on your screen from side viewing, while keeping the information on the screen visible to the user. They also protect digital gear from damage and glare, as well as reduce UV and blue light.
There are three versions of privacy filters:
–Two-way, which provides privacy from the left and right (or top and bottom depending on the orientation of your screen), with fully backed adhesion. This type is recommended for one installation only, as removing and re-installing will result in an unclear viewing area once it is reapplied.
–Two-way, which provides privacy from the left and right (or top and bottom depending on the orientation of your screen), adhered with adhesive tabs. This type is easier to apply and can be installed and removed many times.
–Four-way, which provide privacy from both sides, the top, and the bottom. These have fully backed adhesion and are best used on tablets, phones, and kiosks. This type is recommended for one installation only, as removing and re-installing will result in an unclear viewing area once it is reapplied.
For more information on how privacy filters work, visit our blog: How are Privacy Filters Made, and How do they function? (photodon.com)
2. Where is the screen device being used?
Does the environment require a special purpose screen protector material?
a. Harsh environment
If using your device in environments such as an auto shop with diagnostic equipment or for fieldwork, you may want a higher scratch or shock resistance screen protector for your touchscreen. Anti-shock protectors give you an added level of protection by adding an extra layer of shock-absorbing material laminated to the primary layer.  In addition, these anti-scratch screen protectors have a special hard coating applied to the top surface.  Shops and manufacturing facilities using a human-machine interface (HMI) are examples of environments where these film types are helpful.
b. Public transportation
If you do a lot of traveling on public transportation, a privacy filter may be an excellent choice to keep information on your screen private to only you.
c. Busy open office environments and any business that needs to adhere to HIPPA
If you work in a medical, financial, or government setting, privacy filters will also be the best choice to keep information private.
d. Church
Churches often have big screen TVs and have found that glare is an issue. Anti-glare protectors prove to be the best for better visibility.
e. Restaurant or other public place
If multiple users are using an ordering system such as in restaurants or stores, chances are there are germs and microbes on the screen. Our anti-microbial film reduces germs and microbes by 99%. Hopefully, the screens are being cleaned regularly, which is another reason a protector would benefit in this situation.
If you want a quick answer as to what type of film to purchase from the Photodon website, click this link to our film type questionnaire.
We are happy to help you with any question you may have. If needed, please contact us at 847-377-1185, M-F 9:00am – 5:00pm EST, or email us at [email protected].