Open office spaces, where employees all work in one open space with few to zero barriers in between them, can create problems. Productivity can slow because there are so many distractions. Or workers find they have no privacy.  A Photodon monitor hood is an affordable solution to these problems.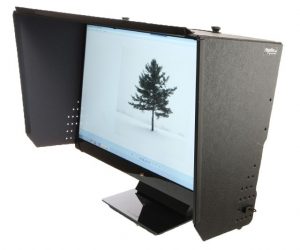 Photodon Monitor Hoods in the Workplace:
Professionally Designed for Office Use

Create a kind of mini-cubicle in an open office
Increase privacy between adjacent computers
Allow employees to personalize their workspace
Have high-quality, lightweight fiberboard base
Have black embossed exterior vinyl that wipes down easily
Have light-absorbing gray cloth interior
Are fully assembled and ready to install
Have a small notch on each side to access USB ports
Are affordable
Stegmeir Consulting Group (SCG), a U.S. based workplace consulting agency, recently published results from their report entitled, "The State of the Open Office Research Study." The group's intention was to get non-biased information about the positive and negative attitudes towards open office floor plans, and they wanted to find out if an open-office design is trending. The study involved surveying participants on 6 continents.  The report concludes that open-office architecture is on the rise and is predicted to continue expanding.
While the survey respondents indicated that their most pressing concerns were related to noise being a distraction to their workflow, privacy in their office space was also a major concern.
Here are the full report details.
Contact us at 847-377-1185, M-F 9:00a.m – 5:00pm EST, or email us at [email protected] to find out how we can help you!