You love your Mac products, but you're not really digging the glossy on your screen? Not everyone does!
No worries though as we have an affordable and practical way to reduce the glare on your screen.
The most popular anti-glare screen protector in our product line is our MXH film — which offers approximately 25% in glare reduction.  This film has a light matte finish, yet our customers love it because it maintains a share image quality.  MXH is a high quality film that will protect your screen from accidental damage and fingerprints.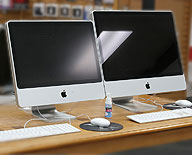 Love your glossy Apple screen!
If you're fighting glare, our anti-glare screen protector films will bring you relief. In fact, many of our customers have told us that having anti-glare film on their screen was the reason they kept their Apple monitor. No more gloss.
Looking for a 27" iMac anti glare film? We have it! We have pre-cut films for many of the Apple products on the market today! If you cannot find your model listed in our store, we can custom cut a screen film for you to your dimensions.
Learn more about screen protectors for Apples!
Helpful Tip:
Turn your computer screen away from direct lighting such as windows and lamps to help reduce light reflection on your monitor screen.
We are happy to help you reduce the glaring on your Apple's screen.  If needed, please contact us at 847-377-1185, M-F 9:00am – 5:00pm EST, or email us at [email protected]