We all know how important it is to use Photodon's large format privacy filters to help maintain data security and HIPAA compliance. Similarly, have you considered a privacy filter for your smaller devices as well? In today's digitally-connected world, our smartphones, laptops, and tablets have become an extension of ourselves. We use them for everything from sending personal messages to conducting business transactions. As a result, our screens often display sensitive and private information. With the increasing concern about data breaches, protecting personal information has never been more important.
Photodon's P2S material is an adhesive privacy filter. That is to say it attaches securely to your screen using full-coverage silicone adhesive. P2S has a 60° viewing angle that is designed to block viewing from side to side. This privacy material also allows for excellent touch response. In addition, it reduces blue light by approximately 50%. Moreover, it is an effective screen protector that prevents scratches and breakage on your touchscreen.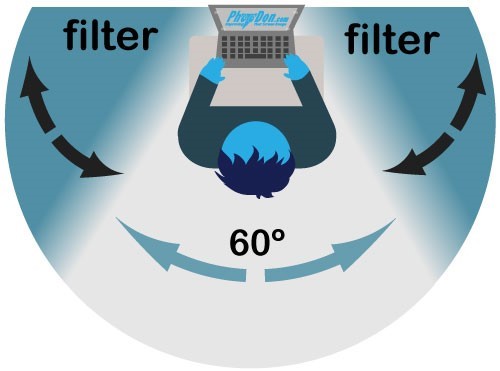 Data Privacy in Public Spaces
Public spaces are hotspots for data breaches. Photodon's P2S privacy filters shield your screen from prying eyes. As a result, information found in emails, documents, and login credentials remain confidential.
Protecting Confidential Data
Business has never been more mobile, and confidential data is of utmost importance. That being said, you can't afford to compromise security. Privacy filters ensure that only authorized individuals can view sensitive data.
Preserving Customer Trust
Your customers trust you with their information, and it's your responsibility to protect it. For this reason, using a privacy filter is a perfect way to show that you take data security seriously.
Conclusion
Remote work has become commonplace. Privacy filters enable employees to work securely from home or any remote location. This is crucial for protecting sensitive data from exposure in public locations.
Privacy filters are versatile tools that offer security and peace of mind. Whether you're protecting business or personal information, Photodon's P2S privacy filters are a valuable asset.
Photodon employees are always happy and ready to help with any questions you may have. You can always contact us at 847-377-1185, M-F 9:00 am – 5:00 pm EST, or email us at [email protected].