In-dash navigation systems are a standard feature of most car designs, right? Let's hear it for the engineers who developed these handy and addicting devices! Luckily, protecting these navigation screens — be it from dangling keychains, pendulous bracelets, or other sharp objects — is easy and affordable.  What's more, some protectors also provide anti-fingerprint and anti-glare features.
Thanks to a thriving forum which contains news articles and discussion topics about the Honda Pilot (www.piloteers.org), we have had oodles of feedback from customers about their experiences with installing and choosing a screen protector for their navigation systems.  Our MXO clear material has been a popular choice, as has the MXH 25% anti-glare material.
Thanks to Charles, of Saint Paul, Minnesota, we were able to see his expert install job.  As you can see from the picture below, an anti-glare screen protector significantly reduces reflection on this navigation system, making it a more pleasant and much safer driving experience.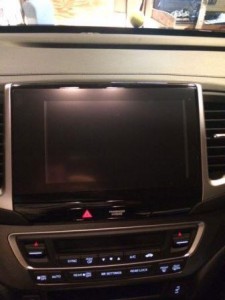 While other customers have loved the MXO and MXH material types, we always suggest that you try before you buy by purchasing a sample pack of our materials which includes a $5.00 coupon towards your order when you do decide.  Then you'll know which type best suits your needs.
Protecting your investment on expensive navigation systems is smart.  Nicks and scratches, fingerprints, and glare do not have to be a part of your ride.  Let a Photodon screen protector help eliminate those issues.
We appreciate hearing your stories. You never know: Your tips just might help other people be safer.  Not only that, we love to hear about how our products are used out about in the world.   Please send your fascinating (no pressure) tales to us at [email protected].
Photodon can custom cut a screen protector for any GPS navigation system, so if you don't find your car's device listed on our site, contact us to help get proper dimensions for your screen.  We're here to help!