Have you been looking for the perfect laptop stand so that you can look your best for your virtual zoom meetings? Do you need a way to support your laptop and other devices or books? Do you struggle to maintain your laptop's camera's proper viewing height or angle? Then we invite you to keep reading to meet STANDLY™, one of the best portable laptop stands for your Zoom conferencing needs!
Let's face it: laptop stands are not all made the same, and most do not offer everything you're looking for. All the other ones on the market are big, bulky, and cumbersome, and many are just not adjustable or portable!
We introduce to you STANDLY, Photodon's new addition to our lineup of products that we created with the video-conferencing laptop and tablet user in mind. Because of its well-thought-out design, all users achieve their best angle for meetings. In addition, it is one of the most versatile, adjustable, and useful laptop stands available.
Let's take a closer look.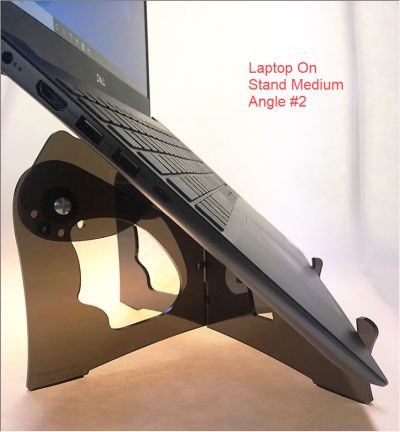 Our Unique Design
STANDLY's unique and minimalistic design is made of high-quality cast acrylic. Easily slide its two pieces together to form an "X" shape that supports your laptop, and then just as easily slide those same pieces apart to create a lightweight and portable flat design that you can take with you anywhere.
A one-of-a-kind rotating disk at the back of the two legs allows four different adjustment angles for your laptop. Additionally, a tablet notch in each leg allows two different angles for tablets.
Everything You Need to Improve Posture and Your Image
Using the STANDLY unique angle adjustment disks to raise and support your laptop instantly improves your posture and reduces neck strain. And not only is the laptop's height now more appropriate for working, but your camera angle is also proper for others to view your image during video conferences and meetings.
With the added height comes the advantage of excellent ventilation for all electronic devices. Furthermore, STANDLY's versatile design offers support for tablets or books that need hands-free viewing.
The Key Features You Will Enjoy
STANDLY is one of the few laptop stands on the market that is this lightweight and very easy to transport. The acrylic material comes in 2 pieces that slide together and back apart.
There are four angles of adjustment at the back of the two legs, while the notches in the front of the two legs offer two additional support angles.
Rubber padding covers the touchpoints so that they protect your devices from scratches. In addition to protecting the touchpoints, more rubber pads on the feet prevent STANDLY from sliding.
Another convenient feature is the ability to choose the color that you want. Options are red, black, blue, and orange.
Check out this link to see STANDLY's uses and how it assembles.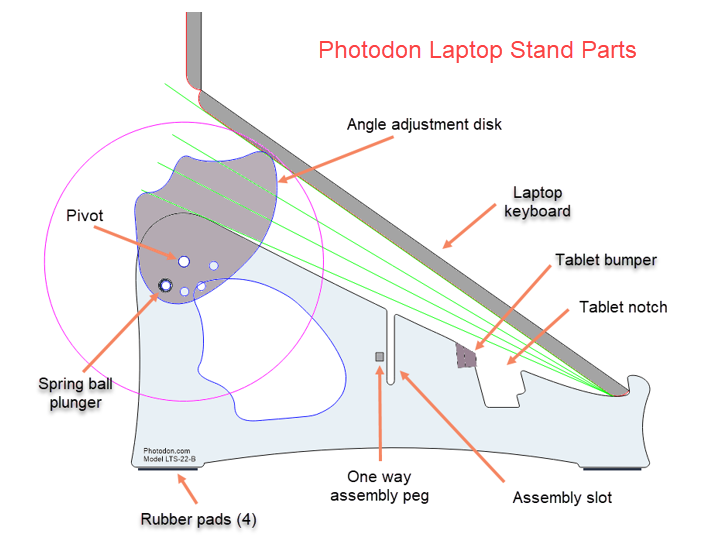 The Specifications
For those of you who are interested in the numbers, this information is critical for STANDLY.
It raises your laptop in the front 1.8", and it raises the back from 6" to 8.25".
There are four levels of adjustment from 30 to 45 degrees. These adjustments work on devices 12" and bigger.
It supports devices up to 7.5 pounds.
It supports laptops up to 20".
There are two angles of adjustment in the tablet notch.
The assembled dimensions are 9" x 9" x 6".
Its disassembled dimensions are 12" x 6" x 1.5".
STANDLY weighs just 0.6 pounds.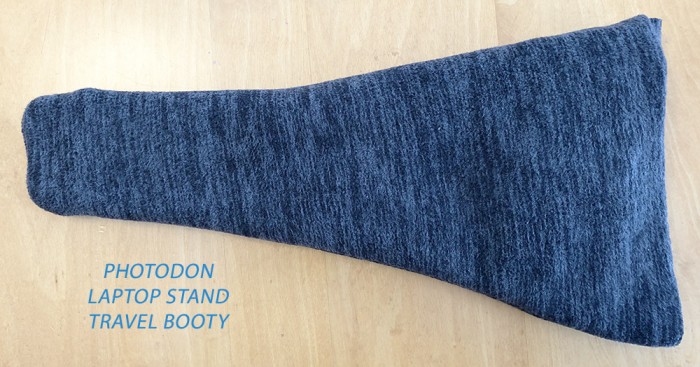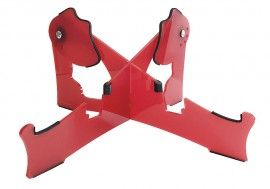 To protect STANDLY during transport, we offer the travel booty for safekeeping.
In Conclusion
Photodon's STANDLY is undoubtedly your best choice for a laptop stand. You will look your best and be at your complimentary angle for your video meetings. Moreover, no other laptop stand is adjustable and versatile enough to support other devices and books!
Please visit our site to learn even more about HOW TO ORDER STANDLY.

Photodon employees are always happy and ready to help with any questions you may have. If needed, don't hesitate to contact us at 847-377-1185, M-F 9:00 am – 5:00 pm EST, or email us at [email protected].