Privacy filters, also known as privacy screens, are like a set of vertical blinds for your computer monitor or any device with a screen but on a Nanoscale. Most modern-day filters are only the thickness of a common business card — .012" (.3 mm). Unlike vertical blinds, the louvers are permanently set in the full open (on edge) position. There are approximately 42 louvers in the 12-pt. letter "a" shown below. This makes for about 715 of these louvers per inch (25.4mm) and equates to thousands of mini-louvers per typical screen. The thickness of a dollar bill (.0043") is approximately the same thickness as 2 louvers in the images below.
Standard privacy filters for laptops or computer monitors are 2-way, blocking the view from left and right. Four-way privacy filters are made with a second layer of privacy louvers at 90° from the vertical louvers. 4-way privacy filters are normally used on tablets and phones. The added layer of louvers makes the filter a little thicker and it also decreases the light transmittance which needs to be compensated by increased screen brightness.
Maximum clarity is achieved when the filter is tight against the screen. There are 2 major types of privacy filters, the back (screen side) of the filter can be coated with a silicone which provides adhesion to the screen, like a common phone screen protector or it can have no adhesion on the filter. In the case where there is no adhesion, the filter is sent with tabs and strips that hold the privacy filter in place from the edges, each has its advantages.
The silicone adhesion provides maximum clarity and makes for a nice clean installation, but the installation can be trickier — especially if not installed in a clean dust-free area. Dust can get between the filter and the screen, creating bubbles that need to be dealt with. Once in place, it can be easily removed but is not meant to be removed and reinstalled regularly.
The non-adhesive privacy filter is sent with adhesive strips which are made of thin clear materials and are easy to apply along the edges of the filter. These filters can be removed as much as a person may like and you do not have to worry about dust or air bubble issues during installation. Photodon privacy filters come with two types of attachment, adhesive strips, and tabs: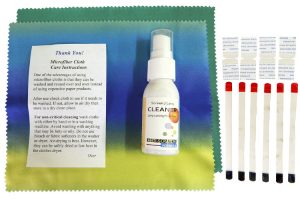 A) Double-sided adhesive strips stick more aggressively to the filter than to the screen. These tabs can be cleaned with soapy water if they become dirty over time.
B) The second type of tab is a single adhesion type that attaches to the frame and extend into the screen area. These tabs are bendable to adjust for different bezel thicknesses. By applying the bend tabs to three sides (bottom and both sides of the monitor), the filter can slip behind the tabs from the top. Then, if needed, you can add one or two double-sided adhesive strips to the back of the filter along the top to ensure the filter is as close to the screen as possible giving you maximum clarity.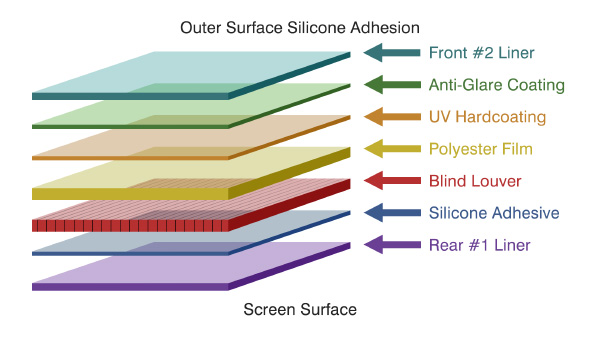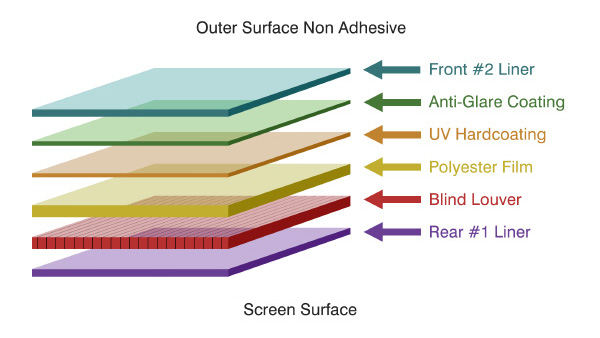 Privacy filters vary by manufacturer but are made of several layers of PET plastic materials. They normally have a hard coating and an anti-glare coating on the outer surface and the louvers are embedded in a clear PET layer. In addition, the filter is protected by a removable protective liner on both sides. #1 back liner is disposed of before application, the #2 front liner is removed after installation.
Benefits of using a privacy filter on your screen include:
Increased privacy
Glare reduction
Protected screen from impact and scratch damage
Reduced screen brightness. Some people find the reduced brightness easier on the eyes
Reduced blue light (50% 310-375nm)
Possible issues with using a privacy screen:
Reduces screen brightness; may require you to increase screen brightness
Does not obstruct screen image from persons directly behind the user
Photodon offers both adhesive and non-adhesive privacy filters that come with installation kits. These can be custom cut for any device up to 48" diagonal for 2-way, and 27" diagonal for 4-way. We also offer Privacy filter installation services.