Screen Protectors Overview
Screen Protectors Overview
Screen surface damage is irreversible. Protect your
digital investment, your health, and your privacy!
---
• Thousands of devices
• Over 250 brands
• Protectors for any device
• Up to 100"

Glossy Screen Before and Matte Screen After Anti-Glare Screen Protector Application
Screen Protector Comparison Sheet

Photodon® offers 15 types of screen protectors:
Anti-glare, clear, anti-microbial, blue light cut, privacy, shock-absorbing, and super scratch-resistant. Photodon materials protect screens from scratches, dirt, and abrasion. Many of our protectors provide excellent anti-glare function while our blue light-cut material helps to protect eye-health. If screen privacy is what you seek, our privacy filters are the way to go. Our shock-absorbing materials offers 6H scratch resistance and extreme-grade protection for any screen up to 100 inches. Custom cutting is our specialty.



Check out our New Installation Videos!





Comparison of Anti-Glare / Matte and Clear Screen Protectors
Screen Protector Material Comparison Videos
Screen Protector Categories
Anti-Glare





Learn More

Clear






Learn More

Blue Light Blocking


Learn More

Shock-Absorbing Clear and Anti-Glare


Learn More

Extreme Abrasion Resistance

Learn More

Privacy Filters



Learn More

Screen Protector Comparison Chart
Material Code

Click + to view material types





Features/Uses

Image Quality

Price
Maximum Small Dimension Cut Size
Spec Sheets
Anti-Glare
Clear
Privacy
Examples of some device types we cover!
Curved Monitors
Touchscreen Displays
Bar Code Readers
Medical Devices
Smartphones
Sewing Machine Screens
Gaming Devices
Drawing Tablets
Industrial Screens
Laptop Notebooks
Tablet Screens/iPads
GPS/Navigation Displays
Exercise Machines
Televisions
Virtual Reality Gear
Digital Signage
Fish Finders
Digital Cameras
E-Readers
Handheld Devices
Drones - Cameras and Navigation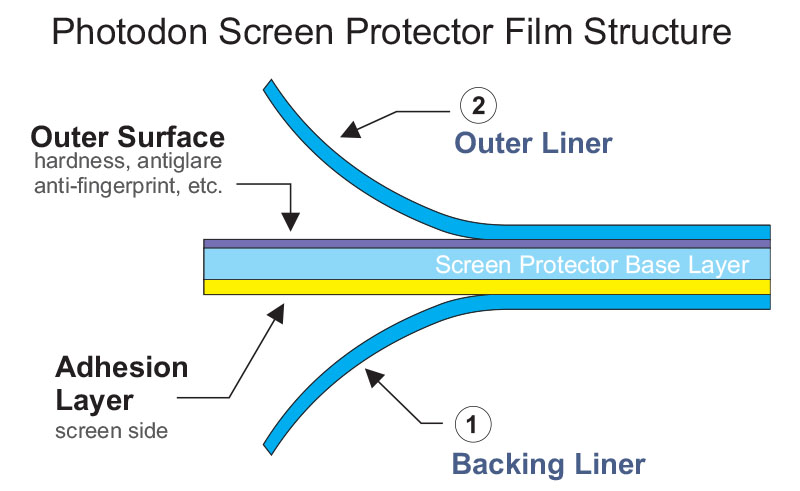 Etching Option
Etching onto the screen protector's surface is a sharp and efficient way to promote your business or simply label your screen protector with your name. For a small fee, we will etch the material with a company or product name, part number, or website - whatever makes sense to you! The font is your choice of Arial 8pt or Arial 12pt, as shown in the photo. Etching location options are bottom right, bottom left, or bottom center. Available on all product pages.
Read what our customers are saying about us!
EXCELLENT SERVICE! Received the film in two days! EXCELLENT PRODUCT! Went onto my laptop screen just as directed; easy to follow instructions, did not have a single air bubble. WHAT AN IMPROVEMENT -- I can now actually see what's on the computer screen, instead of a mirror image of myself.
Exceeded my expectations.
Pam
---
I just received your anti-glare film and it fits to the iMac much better than I expected! And works great with my eyes too! It is a great product for new iMac. thanks!
Kohei

More Testimonials