Today's screen protectors have many features beyond just protecting your screen from scratches and impact damage. You can buy a screen protector for just about any device with a screen, from MP3 players to large-screen TVs. And you can only find these specialty screen protectors at Photodon.
With a little online research, you can find a screen protector that best suits your preferences and usage requirements. Review the following three variables before making your screen protector purchase.
#1: Anti-glare versus clear screen protector
What are you looking for in a screen protector? Do you want to reduce glare, or do you need to protect your screen from damage?
Anti-glare screen protectors
Photodon carries 3 different percentages of glare reduction.  Anti-glare screen protectors provide a welcome relief from annoying glare.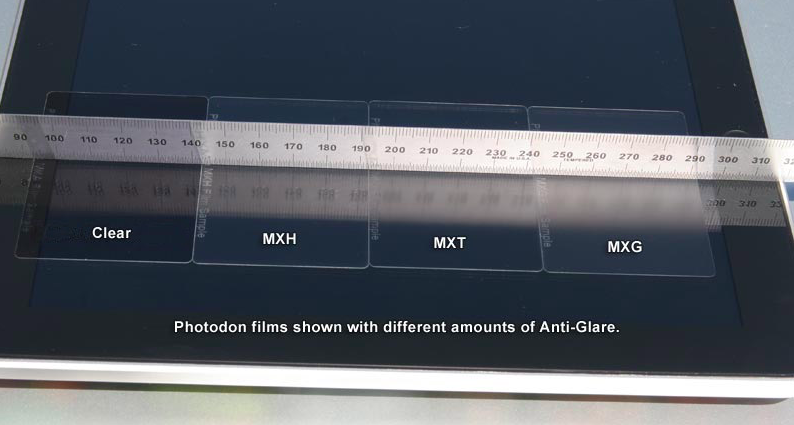 MXH – 25% anti-glare
The light matte finish still has some surface reflection in bright light. It is popular for drawing tablets and in-dash navigation screens.
MXT – 50% anti-glare
The medium matte finish reduces surface reflection by about 50%. It is popular for drawing tablets, churches, and outdoor displays.
MXG and HSG – 85% anti-glare
The high matte finish provides the highest percentage of glare reduction. It is popular for industrial displays and displays such as TVs and kiosks.
Clear screen protectors
If reducing screen glare is not high priority, opt for a clear screen protector. Photodon's clear screen protectors offer benefits such as shock-absorption, anti-microbial coatings, and abrasion resistance to name a few.
AMC – Anti-Microbial
The anti-microbial coating kills 99+% of tested bacteria and holds up well to cleaners. It is popular for all touchscreens.
MXO – Basic Clear
The excellent image quality has an easy-to-clean oleophobic coating and is one of Photodon's most cost-effective films. It it popular for all devices.
HSC- Hard Shock-Absorbing Clear
The extra scratch protection and anti-microbial properties, along with superior impact protection, make this film choice great for many situations. It is popular for industrial displays or any device that is at a higher risk of damage.
9HO – 9H Surface Hardness
The extreme abrasion resistance has a smooth touch and an oleophobic coating. It is popular for industrial displays or any device that is at a higher risk of damage.
MXB – Blue Light Cut
This material cuts up to 93% of blue light, helping to reduce eye strain or sleep issues related to device screen usage. It is popular for computer monitors, handheld devices, and devices used in direct sunlight.
#2: Image clarity
If image clarity is of utmost importance, choose one of our clear film screen protectors. Slightly reduced image clarity occurs with the higher-percentage level anti-glare screen protectors. However, today's technology can now deliver good anti-glare results while maintaining excellent screen clarity.
#3: Fingerprint control
If you plan to use the screen protector on a touchscreen device, it's best to choose an oleophobic (smudge-resistant) screen protector to reduce the need for frequent cleaning. See the difference between the two screen protectors below when we put them to the greasy fingerprint test.
Contact Us!
We are happy with any question you may have. If needed, please contact us at 847-377-1185, M-F 9:00am – 5:00pm EST, or email us at [email protected].