The installation of a screen protector takes time, patience, a clean screen, and a clean environment.
The rubber silicone adhesion of the screen protector gives a tight, seamless appearance when applied properly. However, if there is debris under the material, bubbling will occur.
It's very important that you're applying your screen protector to a clean surface.
Our MX101 installation kit provides you with the following: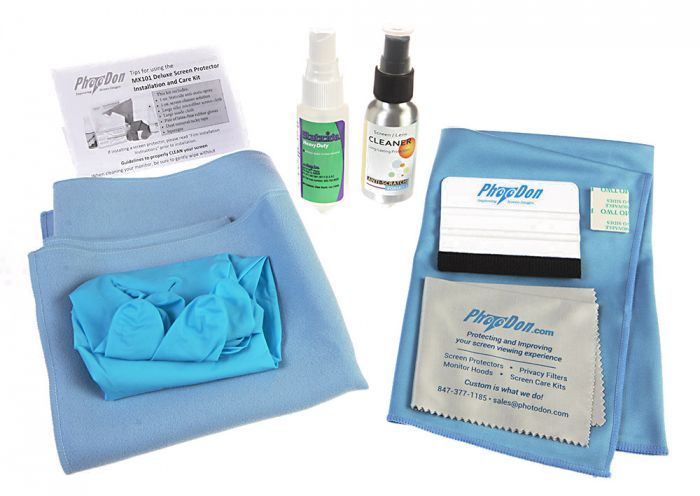 Instructions for the use of the installation kit and care of your cloths
1oz bottle of Staticide to mist around your surrounding area where you'll be installing the screen protector.
1oz bottle of Anti-Scratch screen cleaner to adequately clean your display.
1 piece of dust removal foam tape to aid in the removal of any dust or debris that may have gotten stuck to the adhesive side of your screen protector.
2 pairs of latex-free gloves to help prevent fingerprints while applying your screen protector.
1 16×12 suede microfiber cloth to clean the surrounding area
1 14×14 silky microfiber cloth to clean the screen
1 squeegee to get bubbles out
1 6×7 silky microfiber cloth to use for this device or any other device or lens
This installation kit is available as an option when purchasing most of our screen protectors and is sold directly with quite a few of our pre-cut screen protectors. You may also purchase this kit on its own without the purchase of a screen protector.
Apply your screen protector right, the first time.
We are happy to help with any question you may have. If needed, please contact us at 847-377-1185, M-F 9:00am – 5:00pm EST, or email us at [email protected].